Ways to Spend Your Sunday
Jun 21, 2022
Looking for something to do before the work week starts back up? Check out what Stark County has to offer for Sunday fun!
HARTVILLE
Sable Creek Golf Course has been family owned and operated since 1994. The course offers 27 holes and gives off a country club feel. Make sure you plan to comeback and play all of this course.

---
NORTH CANTON
The Sanctuary Golf Club was voted in the top 20 golf courses of Northeast Ohio by GolfClevelandOhio.com. The course offers 18 holes and has five sets of tees. Check out this relaxing and peaceful course to get the "back to nature" experience.
---
ALLIANCE
Tannenhauf Golf Club has been family owned and operated since 1959. The course offers 18 holes and is a fair test for all levels of golfers. The friendly atmposphere will keep you coming back.
HARTVILLE
Clearwater Park provides loads of summer for your family! Their pool features a zero-depth to 12' swim area with an inflatable obstacle course, a diving platform and diving board, and multiple water slides.

---
ALLIANCE
Funtimes Fun Park is a growing, outdoor family entertainment center located in Alliance! Featuring miniature golf, go-karts, batting cages, rides, and more it is the place to be for local, summer fun with FREE parking and FREE gate (pay as you play).

---
CANAL FULTON
Sluggers and Putters Amusement Park offers family fun for kids and adults of any age! This 18-acre outdoor park has several attractions including a mini-golf course, bumper boats, and go karts.
MASSILLON
Cherry Street Creamery is located along the Ohio & Erie Canal Towpath Trail. Stop by for a quick meal or delicious homemade ice cream, sherbert, kustard, and more!

---
HARTVILLE
New Baltimore is a local, family owned business that sells homemade ice cream that is made on site! They offer a variety of flavors that rotate daily. You can find their daily flavors on facebook.

---
NORTH CANTON
Pav's Creamery has been making homemade kustard, ice cream, frozen yogurt, and sorbets for over 45 years! All of their ice creams are made fresh, daily, using the highest quality ingredients from Ohio suppliers. Look online for current flavors and specials, or stop in for a staple such as Chocolate lmond or Butter Pecan!

MASSILLON
Paradigm Shift Brewing is a casual place for a cold brew and bite to eat! They offer 18 beers on tap, with Growlers and Crowlers available to go. They serve a variety of 30 bourbons, wine, liquor, and cider. Don't forget about a great food menu with weekly specials. Check out Sunday Funday with live music on the patio!
---
MINERVA
Sandy Springs Brewing Co. is located in the restored "filling station" aling the Lincoln Highway. This family owned brewery features salvage from the old family barn throughout the taproom. They feature 16 taps, an infusion tower, and a beer slushy machine. Enjoy American and European style ales and lagers in the Summer Cabanas!

---
LOUISVILLE
UnHitched Brewing Co. offers a wide selection of small batch beers brewed in homage to the classic styles that have served as the foundation for craft beer. They offer 16 taps of fresh beer, a small rotation of cocktails/wine, and chef driven food menu. Check out was once a bowling alley and is the brewery to be at in downtown Lousville!

MORE BREWERIES & WINERIES
NORTH CANTON
The MAPS Air Museum (Military Aviation Preservation Society) is an internationally known museum of aviation and serves as a center of that history in Northeast Ohio. The Museum features over 55 types of aircraft dating from the one of a kind 1908 Martin Glider to an F-16 Fighting Falcon and has over 130 displays of acquired historical artifacts and interactive exhibits.
---
MASSILLON
Massillon Museum galleries are filled with innovative exhibitions—sometimes art, sometimes history. The main gallery features award-winning, often in-house curated shows that change about five times a year. Second-floor galleries usually focus on the permanent collection—MassMu preserves more than 100,000 artifacts from which to draw! Admission is always FREE!
---
CANTON
The Pro Football Hall of Fame is the ultimate destination for fans & families. Check out all it has to offer such as 354 Bronzed Busts, "Super Bowl Theater", and much more!
Belden Village Mall, the premier shopping destination located in the hub of Eastern Ohio, boasts over 120 specialty shops and restaurants. Conveniently located off I-77, the center is just minutes away from the nationally known Canton Pro Football Hall of Fame and Akron-Canton Airport.
From stores and restaurants such as Chico's, White House I Black Market, Pandora, PINK, Burntwood Tavern and Bravo anchored by Dillard's, Macy's, Dave & Buster's, and the Dick's Sporting Goods/Golf Galaxy combo store, Belden Village Mall welcomes shoppers to experience top of the line shopping and dining. The center celebrated half a century this past year and continues to be a cornerstone across generations with community-centric programming and experiential activities.
For more information visit us at, www.beldenvillagemall.com and follow us on Facebook & Instagram- @BeldenVillageMall.
Belden Village Mall offers a destination that is memorable, energetic and fun. Not only is Belden Village your one stop shop for shopping' but it continues to be a cornerstone across generations with community-centric programming and experiential activities. See the full list of calendar events here: https://beldenvillagemall.com/events/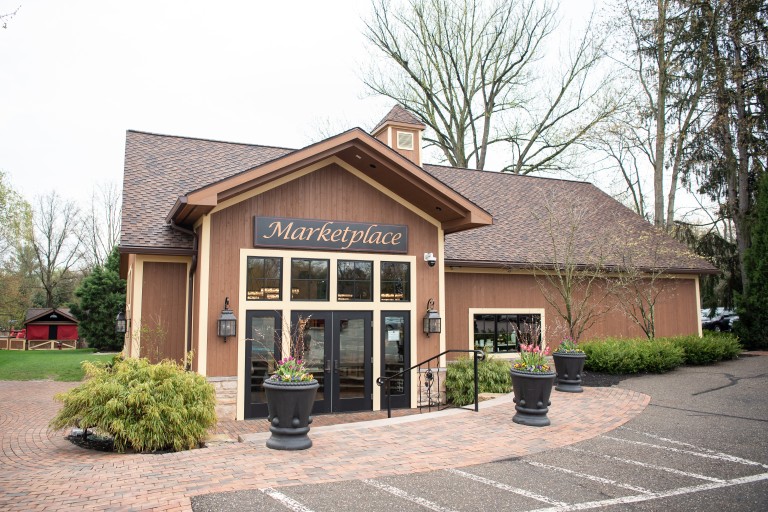 The Marketplace at Gervasi features all of the Gervasi wines, spirits, plus a beautiful display of home decor, fashion accessories, gifts and luxurious new lines! Enter through the doors of The Marketplace at Gervasi Vineyard and transport yourself to a chic, elegant boutique, full of charm and all things beautiful! It's the perfect place to shop for a Gervasi memento or choose a statement piece for your home. A visit to The Marketplace is a must for all Gervasi guests!