Overview
At Beech Creek Gardens you will find a multitude of ways to enjoy the outdoors! In addition to our year-round activities, we host a robust schedule of events throughout the year to make your visit unique and engaging. At Beech Creek we quality of life and the health of the environment are interdependent and that an understanding of nature improves the lives of individuals. We provide experiences that inspire people to be good stewards of their communities and the world.
Nature Playgrounds: Beech Creek features two separate playground areas, Nature Playce and Logs O'Fun Playground. Nature Playce is a 2-acre nature playground that includes treehouses with a swinging bridge, a miniature zip line, giant birds nest, mud kitchen, stage and amphitheater with music area, wading pond, living willow huts, giant Lincoln Logs, and a rock mountain with a slide, among other play areas. Nature Playce also includes a sensory path and some components of the nature playground are specifically designed for ADA accessibility. Logs O' Fun Playground is a small playground made out of logs and nestled in the shade inviting children to explore. Children are welcome to jump, balance, run and crawl on the different sized logs.
Summer Activities: Enjoy the Butterfly House to Hand-feed native Ohio butterflies & moths and learn about the many host plants that support these incredible creatures. Plus, watch as the caterpillars eat, grow, and transform into butterflies and moths, with fun caterpillar-themed activities. In the Amazing Garden Plant Science Center, children & families love learning about plants through hands-on environmental education stations. Gardens & Trails: Enjoy over four different hiking trails and six beautiful gardens at Beech Creek. Trails range from easy to moderate and are a beautiful 1/2 to full mile loop. Access to the trails is included in your general admission ticket.
Raptor Hollow Sanctuary: Located at Beech Creek Gardens is the Raptor Hollow Sanctuary, an independent non-profit organization that provides refuge for birds of prey, reptiles, mammals, and other birds that are unable to be released back into the wild. Experience the Wild Wonders Trail at Beech Creek and other programming from this organization.
Group Tour: Whether you're planning an outing for a childcare center, scout troop, garden club, church group, assisted living facility, workplace, or some other organization, our self-directed tours provide a unique and memorable experience for visitors of all ages and interests.
Accessibility: All areas of our property are wheelchair/walker/stroller accessible except the hiking trails. Some areas of Nature Playce are ADA compliant.
Amenities
Wheelchair Accessible
Meeting and Banquet Facilities
Motorcoach Parking
Sensory Friendly Options
Gift Shop
Meeting Spaces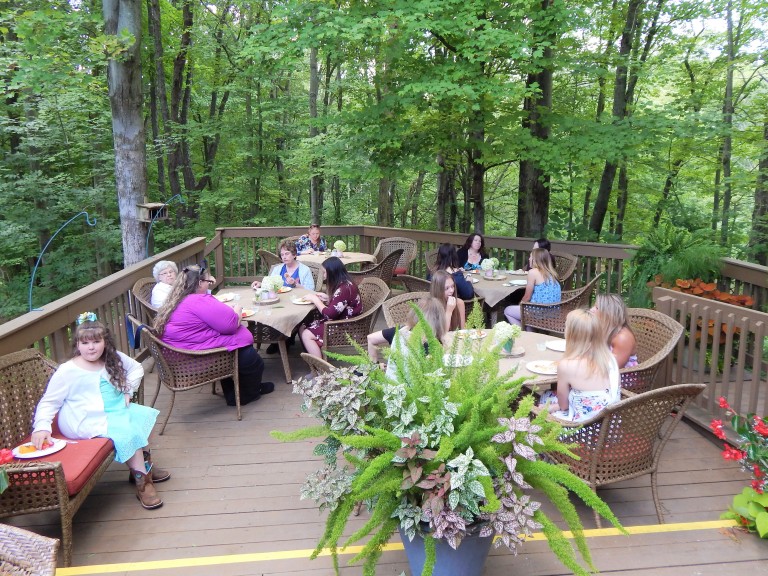 Wildlife Deck
The Wildlife Deck seats up to 25 people and is great for Bridal & Baby Showers, Birthday Parties, small Weddings, Garden Clubs, etc.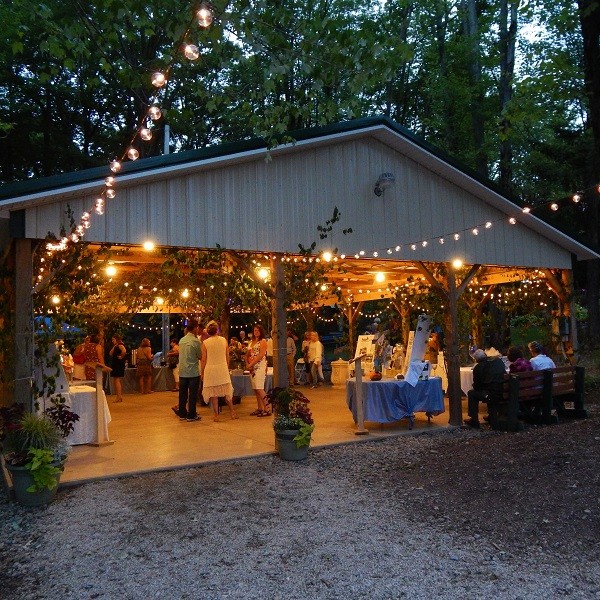 Woodland Pavilion
At the Woodland Pavilion your event will be surrounded by the peaceful woods and sheltered from the elements while still feeling immersed in nature! The covered pavilion is conveniently located beside the parking lot and features natural wood beams to give your event a rustic feel. This lovely venue has ample space to comfortably accommodate up to 100 guests at tables, 180 attendees theater-style, and 200+ for an open networking event.
Related Partners
Details
Raptor Hallow Sanctuary11929 Beech St NE
Alliance, Ohio 44601