Pro Football Hall of Fame
Overview
In Season, Off Season, It's Always Football Season. Come and experience the Pro Football Hall of Fame – an exhilarating museum and attraction, where professional football is honored, preserved, promoted and celebrated daily. Chronicled within the walls of the Hall of Fame are the stories and circumstances of play that pays tribute to football's greatest. The Pro Football Hall of Fame has proudly welcomed millions of fans from all over the world.
Amenities
Food Service or Concessions
Group Rates Available
Wheelchair Accessible
Meeting and Banquet Facilities
Motorcoach Parking
Sensory Friendly Options
Gift Shop
Get a tour! Tour length is 2 hours
Max Banquet Capacity : 332

Meeting Spaces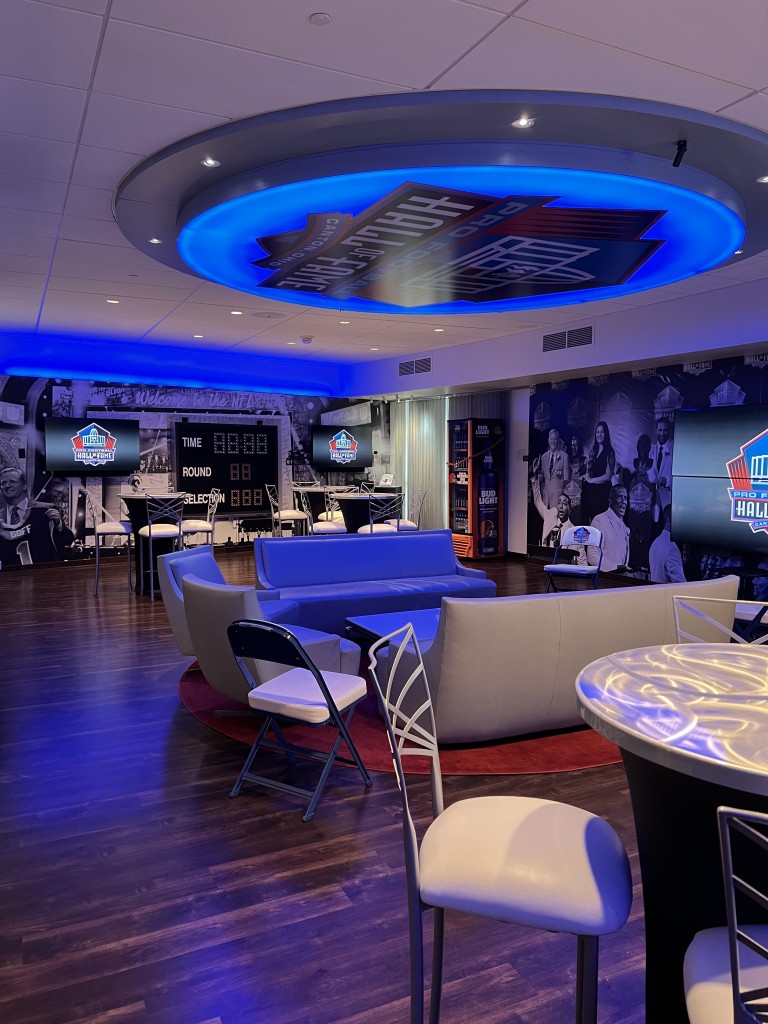 Hall of Fame Presentation Center
The Hall of Fame Presentation Center is on the museum's second floor across from the Hall of Fame Gallery. It is a premium space with existing café tables, high-top chairs, two leather couches, and matching chairs. A segmented video board is also available for presentations. However, this room is best described as the ultimate football living room and is best utilized for informal corporate group meetings or gatherings.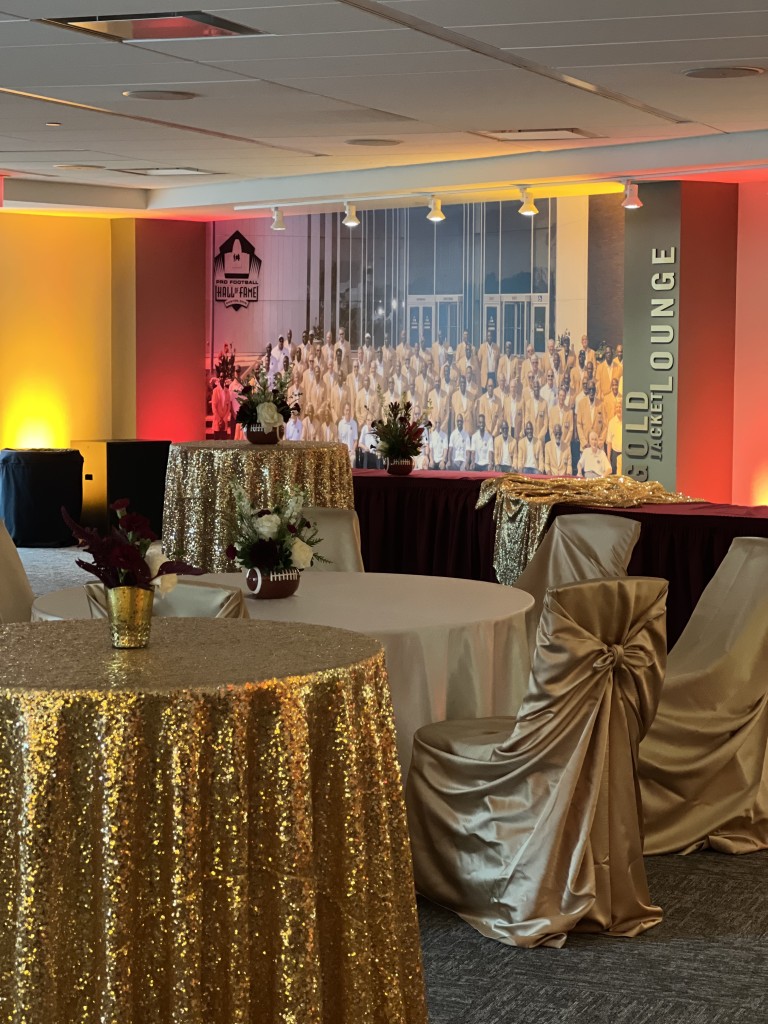 James Allen Family Gold Jacket Lounge
The James Allen Family Gold Jacket Lounge is in the heart of the museum. This room regularly hosts Hall of Famers and boasts state-of-the-art video screens on three walls which can easily be seen from any seat. The room opens to a patio area with views of Tom Benson Hall of Fame Stadium. This room is perfect for smaller meetings and dinners.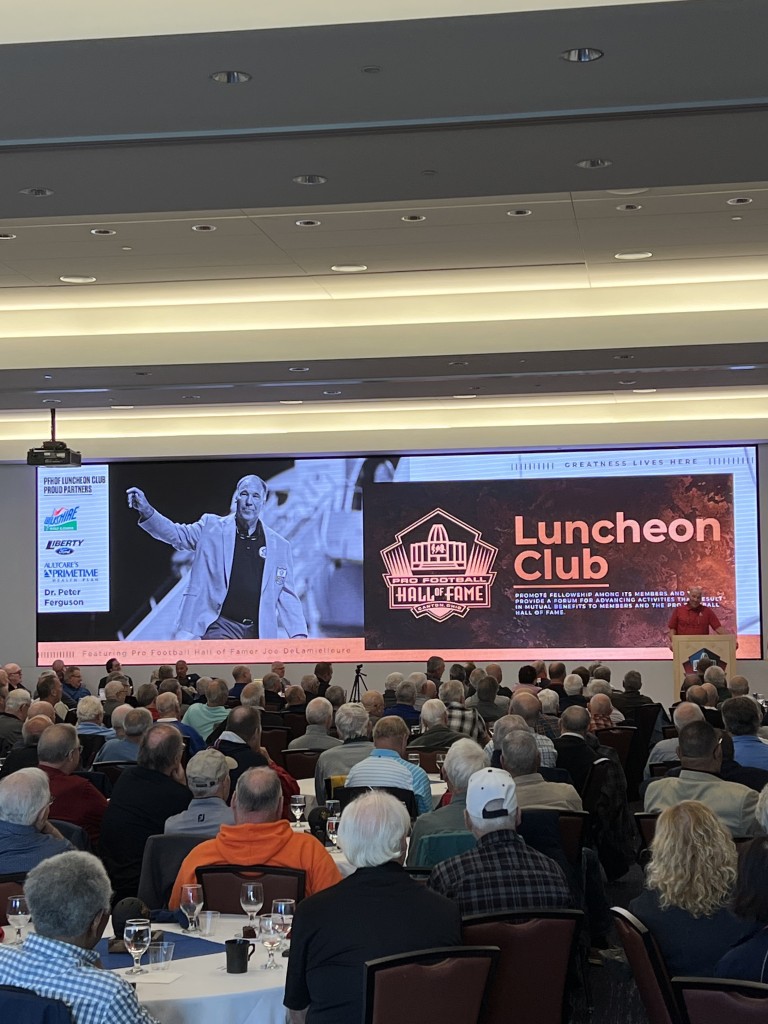 Nash Family Event and Conference Center
The Nash Family Event & Conference Center is a newly renovated space with maximum flexibility. The room boasts a state-of-the-art 36' x 10' video wall with three projector screens on an adjacent wall. This easily accessible space also offers complimentary I-77 digital marquee event signage and access to the Plaza Tent and Field Turf, adjacent to the Hall, to expand the space into an indoor/outdoor venue. The neutral décor complements any corporate, sports, educational or social event.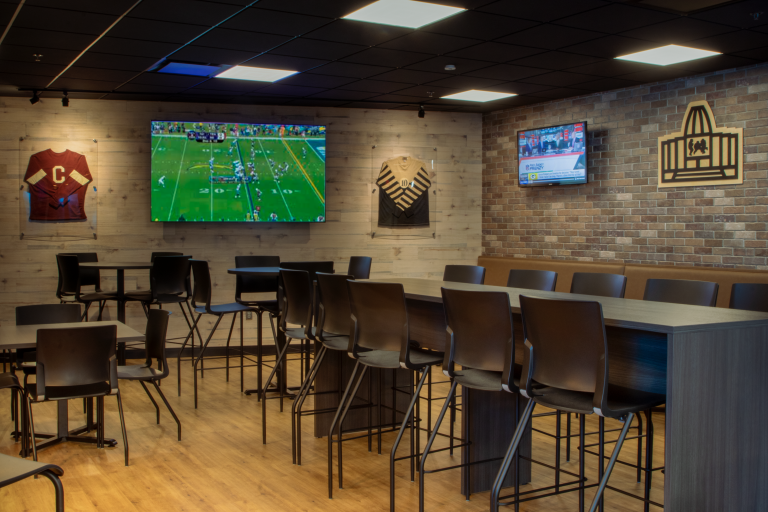 Pro Football Hall of Fame Cafe
The Pro Football Hall of Fame Café is undergoing renovation to expand the space and create a sports-themed dining hall with a capacity for up to 50 guests. The Café will have an indoor tailgate atmosphere best utilized for small informal social events such as birthday parties or other social gatherings.
Related Partners
300 Market Ave. N Canton, Ohio 44702 Website
Details
Centennial Plaza300 Market Ave. N
Canton, Ohio 44702

Related Events
Dec 12
Hall of Fame Village Pro Football Hall of Fame 2121 George Halas Dr Canton, Ohio 44708 (330) 456-8207 Website
Details
Sip & Shop at the Hall of Fame Store2121 George Halas Dr
Canton, Ohio 44708

Dec 19
Hall of Fame Village Pro Football Hall of Fame 2121 George Halas Dr Canton, Ohio 44708 (330) 456-8207 Website
Details
Shop the Hall Extended Hours2121 George Halas Dr
Canton, Ohio 44708

Hours: Open Daily: 9:00 AM - 5:00 PM
Extended Summer Hours (Memorial Day - Labor Day): 9:00 AM - 8:00 PM
Closed only on Thanksgiving & Christmas