November 17 | 64th Annual Holiday Parade, Light Up, Old Fashioned Family Christmas
The 64th annual holiday parade will step off at 4PM from Eighth Street NE and travel down Lincoln Way before turning left on Erie Street S. The parade will disperse at Charles Avenue, allowing families to walk to Duncan Plaza for An Old Fashioned Family Christmas and light-up night performances beginning at 5:45PM.
Santa arrives in Duncan Plaza around 5:45PM and will be joined by Mayor Kathy Catazaro-Perry to light the holiday tree. Also taking the stage will be dancers from Studio 136, the a cappella group NUANCE, vocalists Gia Vonni Himie and John Starret and musical groups, including the Washingtonians and Majestic Voice.
After the tree lighting make sure to head to the Massillon Museum where Artist Gary Spangler will lead a free holiday project for all ages. All guests can enjoy carriage rides, train rides on the Tuslaw Lions Club train or catch a bite to eat from food truck vendors or enjoy dinner at one of the Downtown Massillon restaurants.
November 18-December 14 | Santa's Mailbox at the Massillon Recreation Center & Massillon Public Library
Kids can write a letter to Santa and drop it off in Santa's Mailbox at the Massillon Recreation Center or the Massillon Public Library with a Self-Addressed Stamped Envelope (SASE) and they will receive a letter back from Santa.
November 23-25, December 20-23, 26-30, & January 2-6 | Holidays at Spring Hill Historic Home
Come experience Spring Hill Historic Home during the holidays! The Historic Home is decorated beautifully for the season. Holiday tours are offered from 3PM-6PM the days the home is open. Admission is $5 for adults, $4 for students/seniors, and free for kids 5 and under.
December 1-23 | Visit with Santa in Santa's Cottage at Duncan Plaza
All ages are invited to visit Santa Claus at his cottage in Duncan Plaza the following plaza. Bring your camera to get free pictures with Santa and make sure to bring your list! See the full schedule when Santa will be in his cottage.
December 2 | Massillon Community Candlelight Walk
Carolers will sing on the steps of Massillon Public Library, the Massillon Museum will add a historic highlight, the Five Oaks Mansion will welcome guests, and Massillon Railroad Club will fascinate with its large model train display. Visit the warming station at the Thomas H. Russell House on historic Fourth Street for cookies and warm beverages. Choose your own route; set your own pace. Enjoy the candlelighting ceremony and choral music at St. Mary Church at the end of the event! All FREE for you to enjoy!
December 7 | Swim with Santa at the Massillon Recreation Center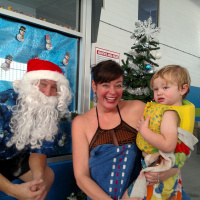 Santa Claus is coming to the Massillon Recreation Center to take a break from his busy schedule. He will be in our aquatics center swimming, enjoying cookies, milk, and Christmas music with the kids. He will spend an hour in the aquatics center visiting and posing for pictures with the boys and girls. You must have proper swim attire to participate in the event. Everyone entering the water must pay. Children 4 & under require a parent in proper swim attire in the water with them. Registration is $5.00 and you can register at www.massillonparks.com, over the phone at 330-832-1621.
December 8 | Lunch with Santa at Spring Hill Historic Home
Join Santa and his elf helper for lunch, a Christmas craft, and some one-on-one time with the big man himself! All children will receive a photo of themselves with Santa with a little note in the mail after the event. Tickets are $10 for adults, $8 for child, and $5 for children 3 & under. Call 330.833.6749 or reserve your tickets online today!
December 8 | 1st Annual Christmas Extravaganza at the Lions Lincoln Theatre
The Lions Lincoln Theatre proudly presents its 1st Annual Christmas Extravaganza! With songs, dances, skits and lots of colorful decorations, this special show – featuring many area performers – will delight children and adults and put everyone in the Christmas spirit! Tickets are $10 for Balcony and $15 for Main Floor. Tickets can be purchased by phone at 1-800-838-3006 or online at www.lionslincolntheatre.org.
December 15 | Breakfast with Santa at the Legends of Massillon
Join Santa for a buffet breakfast at 9AM or 11AM as he makes a stop right here in Massillon. Breakfast consists of French toast sticks, scrambled eggs, sausage, milk, juice and coffee. Everyone will have a chance to have their photo taken with Santa. Children, ages 12 & under, will get one complimentary photo with Santa and a make and take craft. Additional photos will be available for purchase from Tidwell Photography. Registration in $12.00 per person and closes December 8. Tickets are limited, register early. You can register online at www.massillonparks.com, call us at 330-832-1621.
December 16 | Open House at Massillon Woman's Club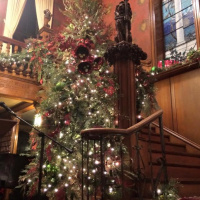 Explore the beauty of Five Oaks Historic Home adorned with holiday decorations! Enjoy a FREE open house from 10AM until 3PM and enjoy a cookie walk and basket raffle. For more information call 330.833.4896.
December 16 | An Elvis Christmas at the Lions Lincoln Theatre
This matinee show at the Lions Lincoln Theatre will be a mix of classic holiday hits and #1 hits from all eras of Elvis. KAVAN will be accompanied by The Memphis Band and special guest Sara Reat. Don't let it be a Blue Christmas … get your Blue Suede Shoes on and join us for this holiday celebration. Tickets are $15 for Balcony or $18 for Main Floor. Tickets can be purchased by phone at 1-800-838-3006 or online at www.lionslincolntheatre.org.
Stop by the Massillon Museum the whole month of December to grab a cup of coffee or lunch at Anderson's In the City, see the community decorated trees in the lobby, and explore all of the exhibits, where the admission is always FREE!