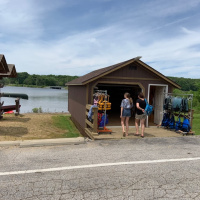 When you arrive on sight you are greeted by a beautiful view, along with a shelter full of options. Paddle boards, kayaks, canoes, motor boats, and row boats are all available for rental. If you're looking for a long day excursion, I would recommend taking a kayak and exploring all the corners of this massive pond.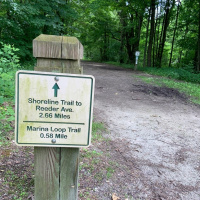 If you're not into water, find your peace on the Shore line Trail. The 2.66 miles trail will leave you speechless from the beautiful sights of bridges, a spillway, and dam. If you're looking for a small refreshing walk, just take the Marina loop trail. As you walk along this .58-mile path you get to see the view from the pond right next to you, and also get to enjoy the scenery the foliage has to offer. If you aren't looking for the exercise but rather to take in the scenes, consider the equestrian trail. This 4.25-miles trail takes you on several loops and lets you fully focus on taking in all the beauty this Stark Park has to offer.
Picture taken on the Marina Loop walking trail.
.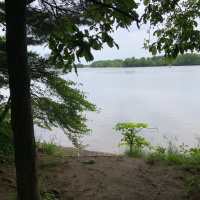 View from inside a canoe on the northern end of the pond.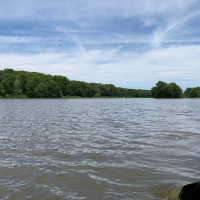 The marina shelter that offers food, boat rentals, information, and first aid!