Located in downtown Canton at 425 5th St. NW, Muskellunge's welcoming storefront offers a window into their casual tasting room. Grab a table, some popcorn, and sip brews crafted meticulously using the laws of math and science. Need a bite to eat as well? Try one of several unique, local downtown restaurants within a short walk.
Shale Brewing Company now offers a taphouse in the Belden Village area at 7253 Whipple Ave NW, featuring established favorites like Roughneck Red as well as a rotation of delicious new brew recipes. Enjoy the beer along with a full food offering of appetizers, salads, paninis, flatbreads and desserts.
Stark County brewery Royal Docks Brewing Company has also expanded. In addition to its already popular brewpub, Royal Docks is now opening a production facility in Stark County available for tours and event rentals.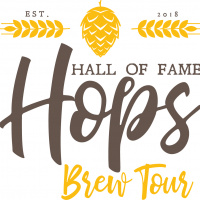 These breweries add to an expanding list of craft brew experiences in Stark County that Visit Canton calls our "Hall of Fame Hops". Football is not the only thing we specialize in, in Canton, Ohio! Check out these 11 unique, local craft brew experiences within 15 miles of the Pro Football Hall of Fame. Good brew and good fun are all the incentive you need to stop by each location on a self-guided Stark County craft brew crawl.
But if you are easily dazzled by free stuff, no problem! Experience Stark County breweries alongside other great breweries throughout the region on one of these craft brewery trail passports:
Summit Brew Path: The Canton Brewing Company and Royal Docks Brewing Company along with 16 craft breweries throughout Summit County, Portage County and Medina County make up this brew path. Redeem your completed passport for a custom 32 oz. growler.
Ales & Trails: Sandy Springs Brewing in Minerva rounds out a list of 14 craft breweries along the border between Ohio and Pennsylvania. The breweries are located near 7 bike trails that cover over 150-miles. Complete all the stops and receive a State Line Brewers Guild Fanny Pack.
Ohio On Tap: Explore 140+ breweries all over the state of Ohio - including Stark County breweries Shale, Sandy Springs, Royal Docks, Canton Brewing, Paradigm Shift and Maize Valley – on the Ohio Craft Brewers Association passport app. Earn prizes and badges with each brewery visit.