On July 17th, I decided to treat my dad to a father and daughter night out by going to the Jackson Amphitheater to see the Queen Tribute Band, Queen Flash. It was definitely an experience and a concert to remember. The concert was held on a Saturday night and throughout the whole day before the concert was held there was a torrential downpour of rain. We were worried that it was going to carry into the evening, but it ended up turning out to be a great night for the concert.
With the bad weather and rain holding off, we were all set for the show to go on as planned. My dad and I walked into the Amphitheater park; we made our way to the lawn to set up our chairs. One of my favorite things about the amphitheater is how much of a sense of home and community it brings by everyone gathering with their lawn chairs and blankets to watch a band or show. Something else that I really enjoyed about just the overall experience of an Amphitheater event was that it gave local businesses an opportunity to promote their businesses and it gave the school community the opportunity to raise money and awareness as well. One of my other favorite things about this experience was that it took place right in my backyard. With that sense of community, having this amphitheater so close to my alma mater and my home, allows me to see and catch up with people that I haven't seen in a while.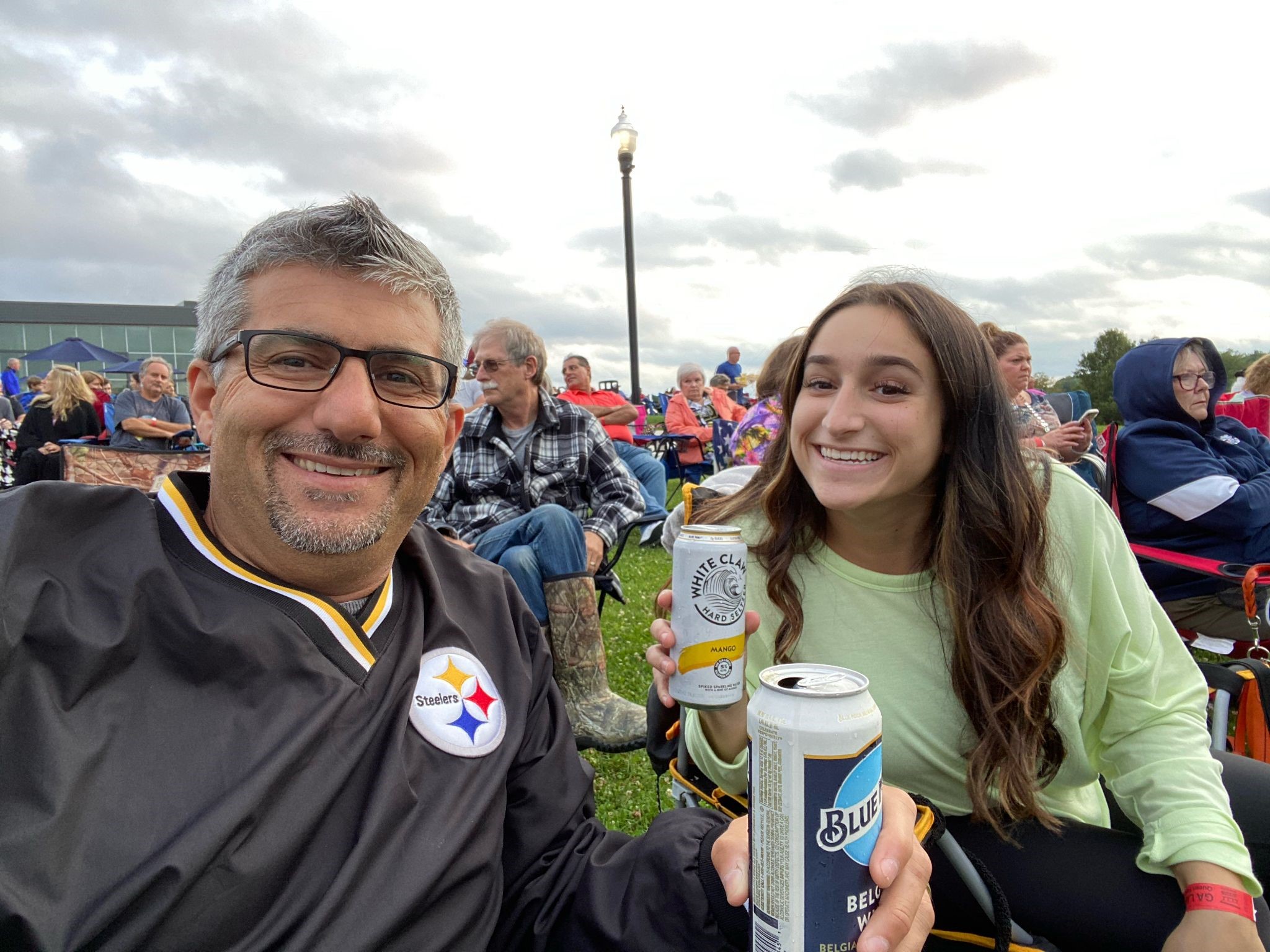 I think the one thing that made my experience really special was that I took my dad with me. With me commuting back and forth all summer between my two jobs, it allowed me and my dad the chance to have a father and daughter night out. One of the other special moments of the night was when I walked back to our seats with two drinks in hand that I had bought for us. Since turning 21 a few months ago, again me and my family haven't really had any fun moments to have this summer, me being able to buy my dad his "first drink on me" was a special moment from the evening. One thing that I would change about my visit was the time that me and my dad arrived at the amphitheater at. We had prior engagements before the concert so we got there a little later than we expected. If you're planning on going to see a show at the amphitheater, give yourself plenty of time before the concert to get there, find parking, and to find a spot on the lawn to sit.
If you want to plan a trip to see the new amphitheater or go to see a show or band that's performing, the full list of bands is on their website at jacksonamphitheater.com. Some of the upcoming bands performing at the amphitheater include; Terry Lee Goffee: The World's Premier Johnny Cash Tribute, Tusk: The World's Number One Tribute to Fleetwood, E5C4P3 - The Journey Tribute. The general lawn tickets cost $10 a ticket but if you were interested in a more VIP experience, you can choose between the VIP Lawn or the VIP Patio that are both $20 a ticket. You can see the full schedule of events, free concerts and can purchase tickets at jacksonamphitheater.com.