1. Make Your Own Hot Air Balloon or Shoe Box Parade Float
Even though the 2020 Pro Football Hall of Fame Enshrinement Festival had to be postponed until next year, you can still have fun by creating a hot air balloon or a shoe box float. Submit a photo entry of your creation by August 10th for the chance to win six (6) tickets to the 2021 Canton Repository Grand Parade! All photo entries will be displayed on the Pro Football Hall of Fame Enshrinement Festival and Visit Canton social media accounts. Use your imagination, and have fun as we proudly celebrate being the home of the Pro Football Hall of Fame!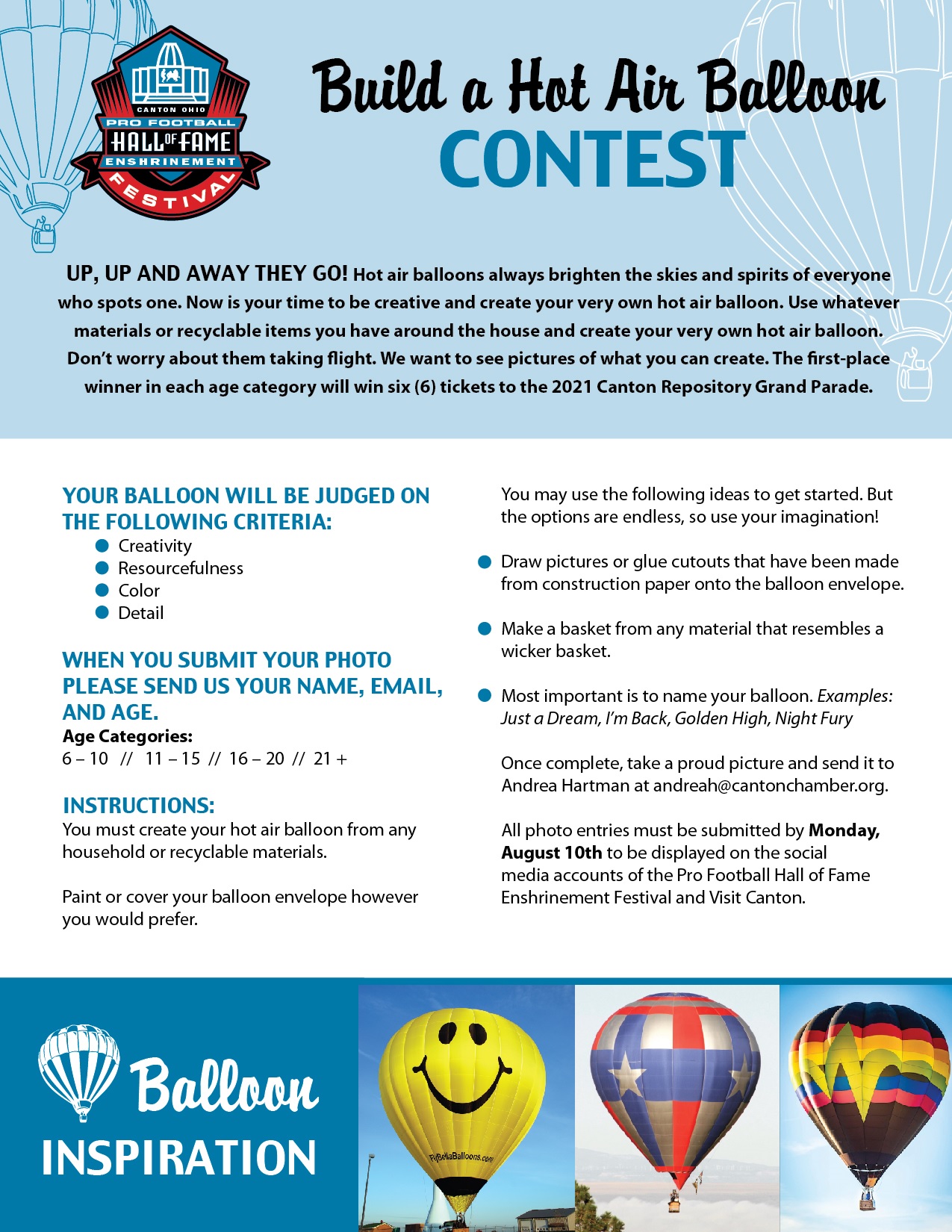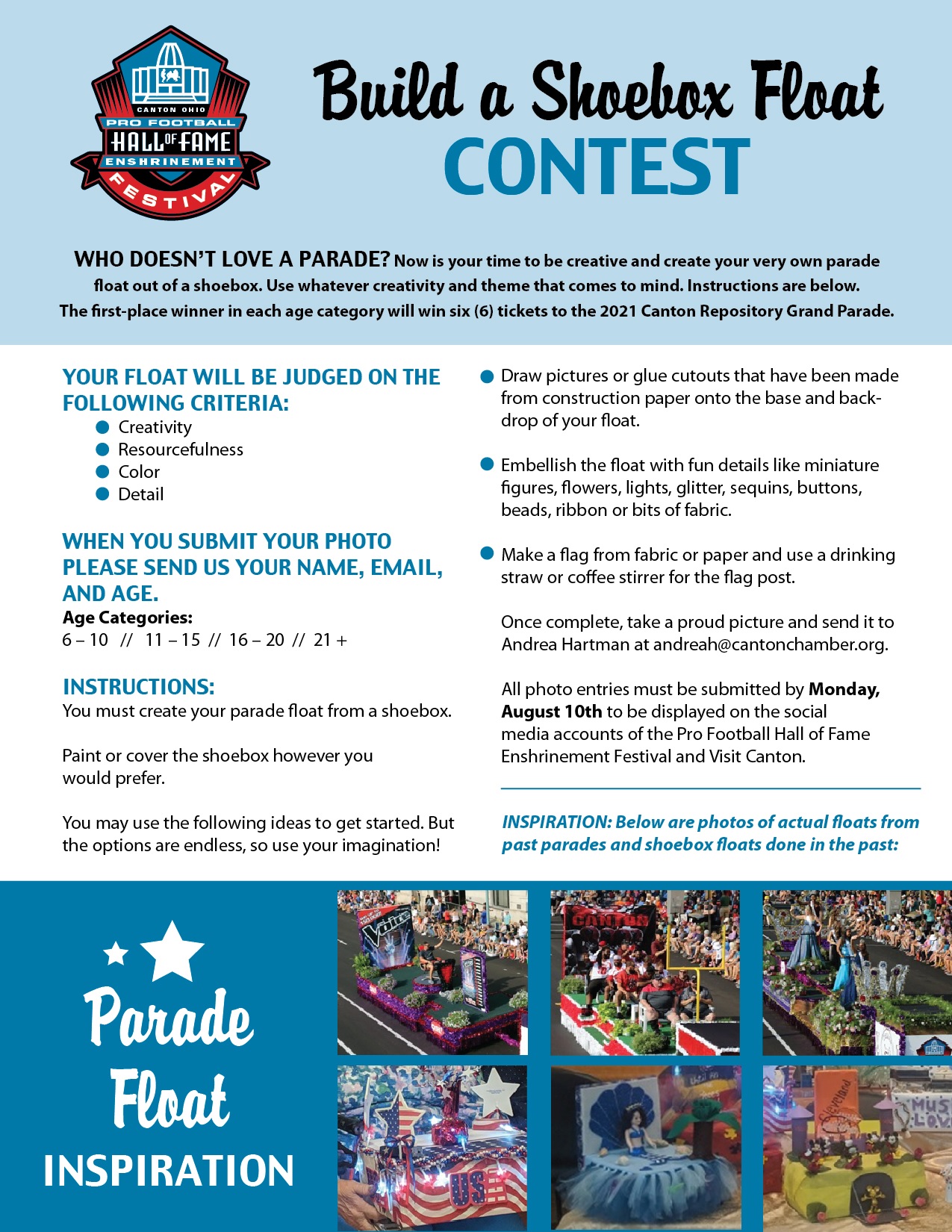 2. What to Eat and Drink
You don't have to miss out your favorite Stark County favorites, so enjoy a celebratory meal or pick-up many of these options to-go in celebration of Pro Football Hall of Fame Enshrinement Week.
Bittner from Taggarts | A Canton Classic, ¾ of a pound of vanilla ice cream with homemade chocolate syrup blended throughout and generously sprinkled with roasted pecans. This has been popular since the 1930's and is a must stop for so many returning Gold Jackets.
Broiled Boston Scrod and Bender's Fries from Bender's Tavern | Bender's Tavern (Canton's Oldest Restaurant) prides itself by offering the highest quality seafood fresh from Foley Fish, in Boston Massachusetts. Enjoy a truly unique to Canton, take on fries that Gold Jackets crave every year. Seafood not your thing? Enjoy top quality beef, chickens, fresh raw oysters on the ½ shell, or the Bender's Classic "Turtle Soup"
Jumbo Wings from Jerzees Grille | Missing the patio parties at Jerzees? Enjoy their jumbo wings available in 19 different sauces. Their juicy boneless wings are also available. Not feeling wings? Can't go wrong with their hand rolled, Cheesy Pepperoni Rolls!
DONUTS | Missing your early morning tradition of waking up, going to the Canton Repository Grand Parade and enjoying donuts? You don't have to miss out on the tradition! Order a dozen donuts from Stark County favorites, including Mary Ann's, Johnnies, or Lieberman's.
Tailgate Party at Gervasi Vineyard | Celebrate with family and friends and enjoy a delicious house Gervasi family-style meal. Enjoy a special tailgate meal including tortilla chips & queso, fried buffalo cauliflower, pasta salad, chicken fingers with Honey BBQ & Hot Sauce, Pulled Pork Sandwiches, GV Housemade Lemon Bars and Nutella Brownies, Ice Tea, Lemonade, and Cash Bar.
3. What to Wear
Just because there is not a football game and festivities, doesn't mean that you shouldn't put on your favorite players jersey or show your team spirit!
Pro Football Hall of Fame Store | The Pro Football Hall of Fame Store has merchandise from all 32 teams, plus exclusive Pro Football Hall of Fame gear. Get yourself a new jersey, exclusive hats, or maybe even a Pro Football Hall of Fame exclusive product to show off the hometown pride. With a huge selection, shop in store or get delivery right to your door with convenient online shopping at profootballhof.com/store.
Little Chicago Clothing at Print & Press Shop & Studios | Little Chicago Clothing Co. designs, screen-prints and retails vintage and retro t-shirts that promote regional pride in Canton and Northeast Ohio. Shop in store at Print & Press Shop & Studios or shop online and be directly delivered to your door at littlechicagoclothing.com.
4. Get Excited for 2021
It may seem a lifetime away, but the celebrations will be worth the wait here in Canton, OH. Not only will we be celebrating the Centennial Class of 2020, but also the Class of 2021. We can't wait for Twice the Fun in '21 and it's never too early to start planning for your trip to Canton.