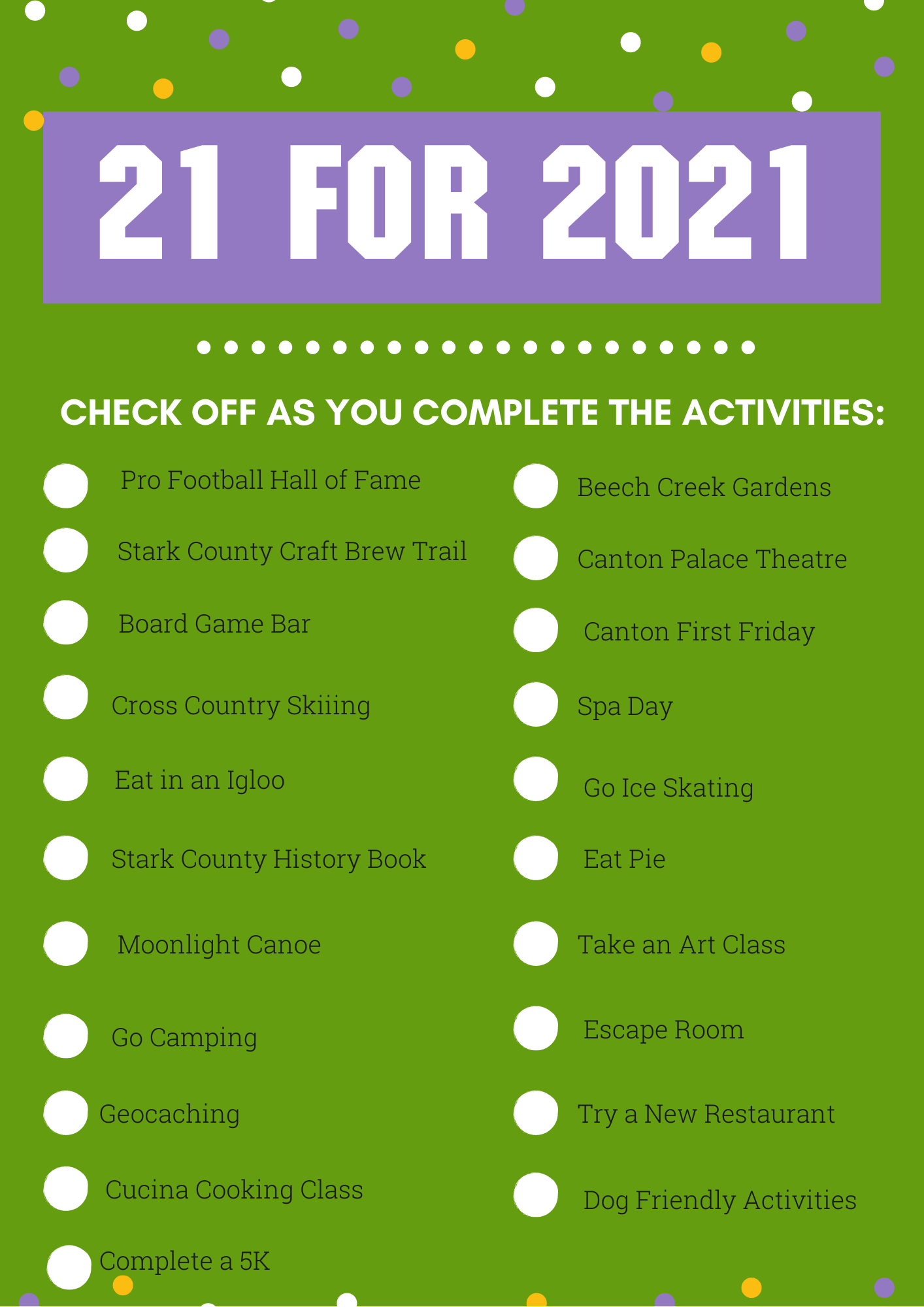 2021 is your year to explore and try things that you have been meaning to check off your bucket list. Create your own list or use our 21 for 2021 list to conquer your year!
Visit the Pro Football Hall of Fame: Whether you are a Stark County native that has never been to visit the Pro Football Hall of Fame or it's on your bucket list to visit the "Most Inspiring Place on Earth", this is a MUST DO experience for 2021.
Stark County Craft Brew Trail: Kick back, relax, reunite old friends and make new friends over ice cold mugs of locally crafted beer. Explore craft brews and breweries throughout the Canton, Ohio region on the Hall of Fame Hops self-guided ale trail.
Play Games at a Board Game Bar: Have no "Clue" what do with your friends? Learn how to play a new board game, while enjoying drinks at Milestone – A Board Game Bar in Downtown Canton or Sapphire City in North Canton.
Cross Country Skiing: Snow covered trails are not only beautiful for hiking, but they provide a great opportunity for cross-country skiing. When conditions allow, Stark Parks staff will lead outdoor programs at Quail Hollow Park.
Eat in an Igloo: Located in Minerva, Sandy Springs Brewing Co. offers private igloos for you and your guests to enjoy delicious food and world-class brews.
Take an Art Class: Whether you want to learn how to paint, make your own pottery or learn more about digital design, both the Canton Museum of Art and Massillon Museum have a calendar full of in-person and virtual art classes.
Go Ice Skating: Whether you are a pro skating or this will be your first time hitting the ice, enjoy indoor skating at Center Ice Sports Complex or outdoors seasonally at the Hall of Fame City Ice Rink in Downtown Canton.
Read a Stark County History Book: Head to the McKinley Presidential Library & Museum Gift Shop, to purchase books on the President McKinley or the local favorite "Stark County Food: From Early Farming to Modern Meals"
Experience a Moonlight Canoe: Gather your friends or enjoy a romantic date night traveling down the Tuscarawas River lit by lantern on a hot summer night, beginning at Ernie's Bike Shop in Massillon.
Go Camping: From campgrounds with waterparks, primitive camping sites, RV parks, cabin rentals and glamping, there are variety of campgrounds available in Stark County.
Geocaching: Enjoy a real-life outdoor treasure hunt using GPS-enabled devices, that take you to parks throughout the county.
Cucina Cooking Class: The Cucina at Gervasi Vineyard offers fun and inspiring experiences marked by delicious food and memorable wines. You'll even receive a recipe packet to help recreated your Cucina experience at home.
Complete a 5K: Whether you want to walk or run, this is your year to complete that 5K. Hey, while you are at it, why don't you sign-up for the Pro Football Hall of Fame Marathon?
Explore Beech Creek Gardens: Have you heard of this hidden gem? Families of all ages will enjoy their visit to Beech Creek Gardens that includes a 2-acre nature playground, butterfly sanctuary, botanical gardens, hiking trails, picnic area, and seasonal special events.
Watch a Movie at the Canton Palace Theatre: Did you know that the Canton Palace Theatre is home to Canton's largest screen? From family-friendly flicks to award-winning films, there is sure to be a movie that you want to see!
Attend Canton First Friday: The monthly celebration of art, music, local businesses, and restaurants is celebrated on the First Friday of every month year-round in Downtown Canton.
Spa Day: The Spa at Glenmoor Country Club is complete with a realxing visit in the whirlpool while sipping a mimosa. From facials, pedis, and massages, the Spa is open to public or Club Members and will totally relax you.
Enjoy Pie: Did somebody say PIE? The Hartville Kitchen offers a wide variety of pie flavors to delight your taste buds, from cream pies to seasonal fresh fruit pies.
Escape an Escape Room: Uncover clues, work through puzzles and collaborate with your friends and family to try and escape from the escape rooms at Escape Room Downtown or Wisecracks Comedy Escape Room.
Try a New Restaurant: No matter where you are in Stark County, there is sure to be a delicious locally owned restaurant that you need to try. Your palette looking to find your new favorite place to go for a steak? Add Bakers' Cafe, Lucia's Steakhouse or Sparta Steakhouse & Lounge to that list.
Explore Dog Friendly Parks & Restaurants: Explore the great outdoors throughout Stark County at parks and enjoy dog-friendly patios throughout the Summer months.