Online & Digital Shopping
Shopping Specials
More Info >
Enjoy unique shopping experiences and take advantage of the summer weather at these outdoor markets. Shop for artwork, vintage clothing, antiques, reclaimed furniture, hand crafted jewelry, home goods, and locally sourced foods.
Marketplace Line-Up
Beautiful weather, plus a combination of outdoor shopping, special events, and so much more, we have your complete Marketplace Line-Up for enjoyment this summer!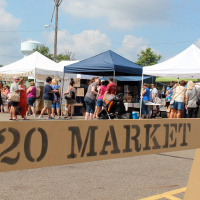 720 MARKET
May 19 | July 20 | September 29
720 is an open-air, local market showcasing makers and bakers, brewers and growers … and beyond for a fresh-air, fresh new way to shop, eat and discover local talent. There's so much food, art and music to love at the 720 Market! Let's get together!
This traveling market will be located at Walsh University's Hoover Park (May 19), a celebration of 720 Day in North Canton with the promoise to fill St. Paul's parking lot as well as Main Street (July 20), and a collaborative Fall Festival and Market at Gervasi Vineyard (September 29).
HARTVILLE MARKETPLACE & FLEA MARKET
Memorial Day Weekend | 4th of July Weekend | Labor Day Weekend | Moonlight Market
Hartville is a great shopping destination all year round. Visit the shops in Hartville's historic village square and the Experience Hartville campus featuring the MarketPlace, Flea Market, Kitchen, Collectibles & Gifts, Children's Boutique and the Hardware - the America's largest independently owned hardware store.
Haven't been to the MarketPlace & Flea Market in a while, make sure to make time to check out the South Side Market -- the recent remodel of the South Side of the Indoor MarketPlace, featuring everything from fresh meat and seafood to make your own candy bars! You know you don't want to miss the

DOWNTOWN CANTON FLEA
May 18 | June 15 | July 20 | August 17 | September 21
The Downtown Canton Flea takes place every third Saturday from 10AM to 3PM at the Cultural Center for the Arts in downtown Canton and features more than 75 handmade and vintage vendors, offering art, crafts, antiques, handmade goods, vintage fares, farm fare, food & drink, collectibles and all kinds of crazy other stuff you won't find anywhere else. It's all for sale, all for you, all in one place. Plus, live music, kids activities, art demonstrations, yoga and so much more.
FARMER'S MARKETS
Looking for the freshest forkful around? Head to one of these community seasonal open-air markets that offer the freshest produce, meats and poultry, cheeses, flowers and herbs, eggs, abked goods, and handmade products!
| | | |
| --- | --- | --- |
| Alliance Farmers' Market | 9AM-Noon Saturdays June 15-October 19 | Caboose parking lot on the corner of E. Main St. and Mechanic Ave. |
| Canal Fulton Farmers' Market | 4PM-7PM Thursdays June-September | Northwest Stark Senior Center at 853 Locust St. S |
| Canton Farmers' Market | 8AM-11:30AM Saturdays June 15-September 28 | McIlwain Administrative Building Parking Lot at the corner of Fourth St NW and McKinley Ave NW |
| Jackson Township Farmers' Market | 3PM-6PM Thursdays July 11-October 3 | North Park at 7660 Fulton Drive across from Jackson High School |
| Massillon Farmers' Market | 8AM-Noon Saturdays June -October | City Hall parking lot on the corner of 2nd St SE and Tremont Ave. |
| Minerva Farmers' Market | 4PM-7PM Thursdays June-October | Minerva Municipal Park located on Brock Avenue |
| North Canton Farmers' Market | 8:30AM-Noon Saturdays June-September | Rear parking lot of St. Paul Catholic Church and the Main St. Grille at 123 S. Main Street |
| Plain Township Farmers' Market | 4PM-7PM Wednesdays May 1-September 25 | Veterans Park located at 1714 Schneider St NE |