Image featured: Celebrate President McKinley the month of January by planning a visit to the McKinley Presidential Library & Museum and walk the 108 steps to the top of the McKinley Monument.
On display throughJanuary 16, 2022
"WHY DO WE COLLECT?"
"Why Do We Collect?" features 30 carefully selected ordinary objects with stories from donors that make them special. The exhibition also explores how and why museums build their permanent collections, how we assign meaning to material objects, and the psychology behind personal collecting. To illustrate the process of conservation in museums, two of First Lady Ida McKinley's gowns will be on display, accompanied by detailed information about the conservation treatment they have received to stabilize them. The exhibition also explores how museums collect history in the making, illustrated by a selection of COVID-19 related items collected by the staff in their daily lives.
On display February 3-March 10, 2022
"THRIFT STYLE"
This traveling exhibition explores the reuse of feed sacks to make clothing and other household objects and illuminates how the "upcycling" of these bags mutually benefited twentieth-century consumers and businesses. With forty-one works from patterns to garments, it serves as an example of past ingenuity that can inform today's efforts towards sustainability. Sponsored by Goodwill Industries of Greater Cleveland and East Central Ohio
The William McKinley Presidential Library & Museum is pleased to announce the Hoover-Price Planetarium is holding shows on Saturdays through February 26, 2026. Planetarium shows are included with paid admission to the Museum. Seating is limited and all shows are provided on a first-come, first-served basis.
Celebrate McKinley Day throughout the month of January with activities for all ages at the Museum, virtual presentations, a Pet Supply Drive, and so much more.
On display November 23-March 6, 2022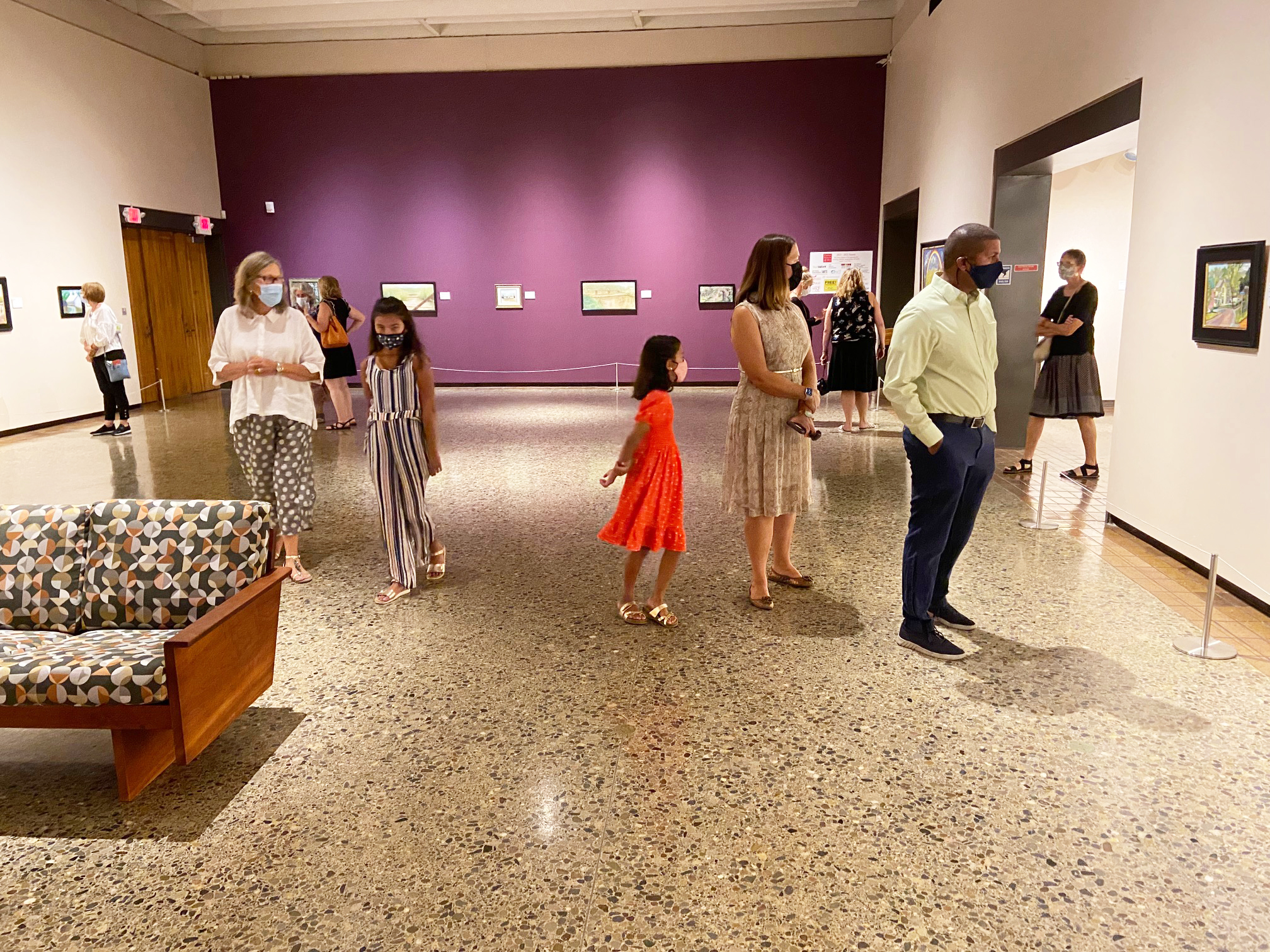 MARVELOCITY: THE ART OF ALEX ROSS
Considered one of the greatest artists in the field of comic books, Alex Ross has created some of the most iconic images known to fans today. For nearly 30 years, he has revitalized classic superheroes into works of fine art by illustrating characters including Spider-Man, Captain America, Iron Man, Storm from the X-Men, the Avengers, Black Panther, and many more.

UNSOUND: HANNAH PIERCE CERAMICS
Hannah Pierce is a ceramic sculptor and mixed media artist currently making work as a Resident Artist at Nottingham Center for the Arts in San Marcos, CA. Before graduate school, Hannah worked as an educator for people with developmental disabilities at Canvas + Clay Studio located in Eureka, California. Influenced by this experience, she has taught many ceramic classes and workshops at art centers and colleges across the country with a focus on accessibility and inclusion. Hannah has exhibited her work in numerous internationally recognized exhibitions and art fairs, such as Aqua Arts Miami and Superfine! Arts Fair DC.

TOM FRANCO AND THE ICE-CREAMS: BEYOND STRUGGLE, WHEN THE FUTURE HELLO MEETS IDENTITIES DEEP ROOTS
Tom Franco considers himself a folk artist and his work represent images of his native Bay Area California, our shared global culture, as well as scenes of his inner life in the subtler realms of reality. His work is made of about 80% found materials including surfaces he paints on, the paint itself, and both large and small items.

POP/OP
POP/OP features American Pop and Op art pulled from CMA's collection and from lenders. POP/OP brings these movements together in one space, with rhythmic lines and bold colors. Featured are artists such as Julian Stanczak, Andy Warhol, Jeff Koons, and Roy Lichtenstein.
Now on display at the Education Center through April 2, 2022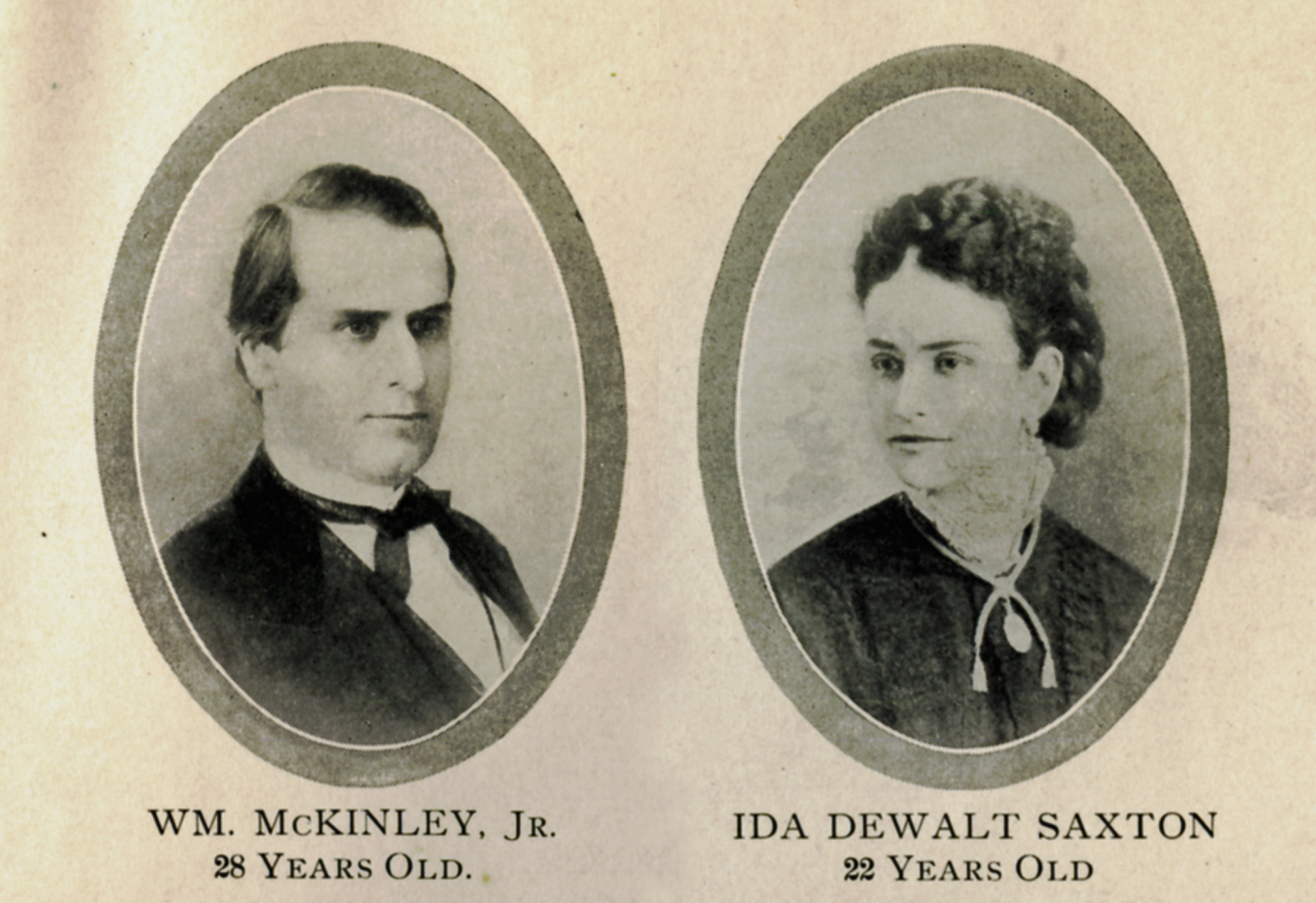 DEFINING HER ROLE: THE FIRST LADY'S FIRST 100 DAYS
The exhibit examines the initial steps a first lady takes to set the framework for her role in the new administration. Beginning with the Inauguration Day, replicas of famous inaugural gowns are on display as well as artifacts that offer insight into the causes first ladies championed, as well as items that help humanize them.

I THEE WED: THE MARRIAGE AND INFLUENCE OF IDA AND WILLIAM MCKINLEY
When Major William McKinley started courting the "Belle of Canton" Miss Ida Saxton in the summer of 1870, the town was excitedly expectant for a future wedding. Invitations were sent out in December announcing the date and time as January 25, 1871 at 7:30 p.m. at the First Presbyterian Church in Canton. An in-depth exhibit that pays tribute to the 150th wedding anniversary of their life-long dedication to one another.

SEW CHIC: STORY OF ANN LOWE
Rockefeller, Vanderbilt, Rothschild, Whitney, Post - Ann Lowe's client list read like a who's who of American aristocracy. With no more than an eighth grade education in a racially divided country, Lowe's talent and good taste propelled her success as a design powerhouse in the most illustrious social circles. The exhibition is a celebration of the life and work of Ann Lowe with a special focus on the gowns she created for the Evyan Perfume Company.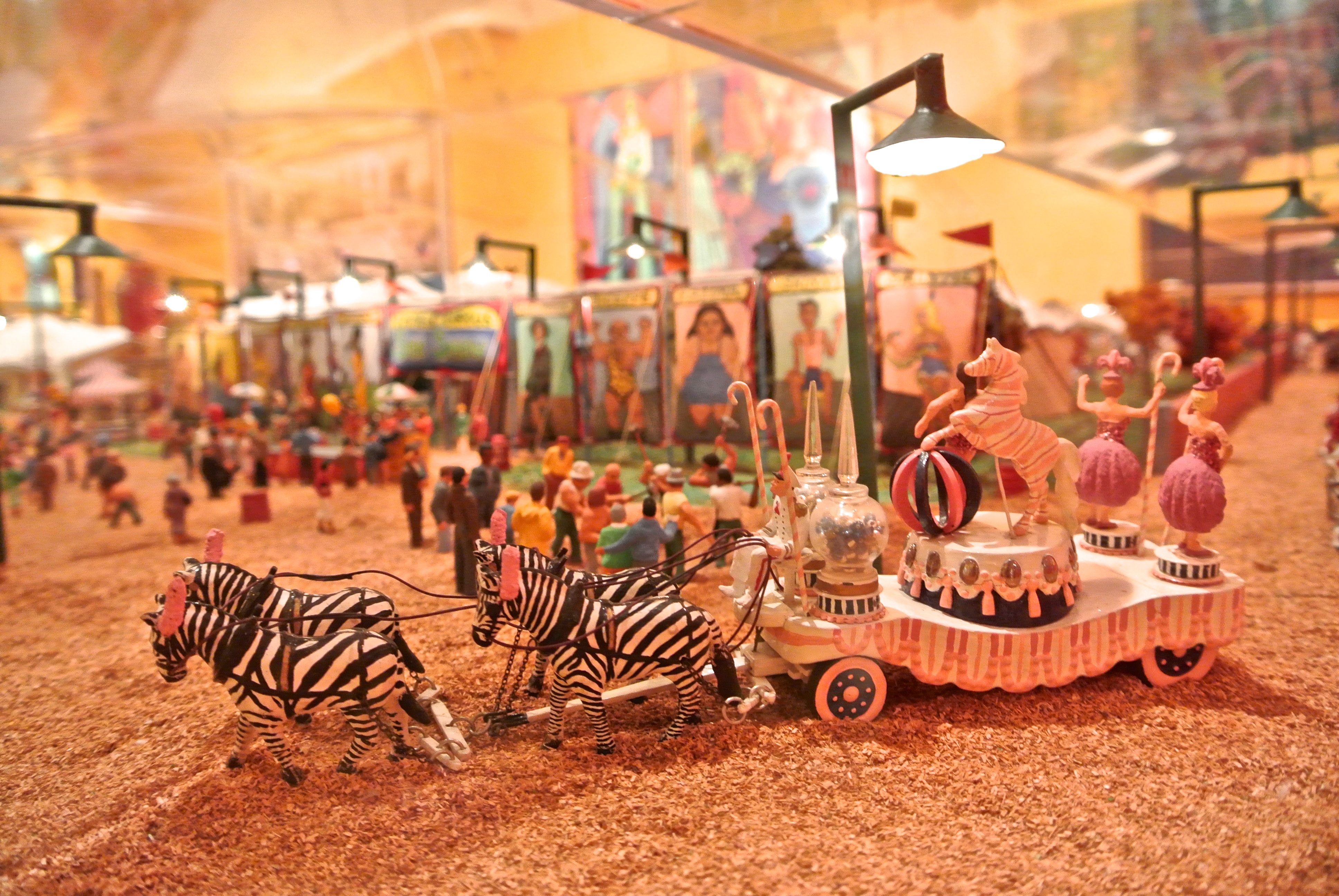 On display October 16, 2021-January 16, 2022
STARK COUNTY ARTISTS EXHIBITION
The Massillon Museum has held this annual juried show for more than 30 years. In order to apply, you must be a present or former Stark County, Ohio resident, or currently work in Stark County, Ohio. (Image featured above.)
On display February 6-March 6, 2022
CELEBRATION IN ART
The Massillon Museum will be holding their annual K–12 Student Art Exhibit in the Aultman Health Foundation Gallery.
On display February 5-April 6, 2022
ALEX VLASOV: I PROMISE TO MAKE A FABULOUS PTG TOMORROW
This student exhibition is a showcase of mixed media paintings.
On display February 6-March 23, 2022
THE ART & HISTORY OF BLACK HAIR: THROUGH THE EYES OF THE 21ST CENTURY AFRICAN AMERICAN CHILD
A Photography Exhibit by Stark, Summit, Portage and Medina county students.
Now on display through January 9, 2022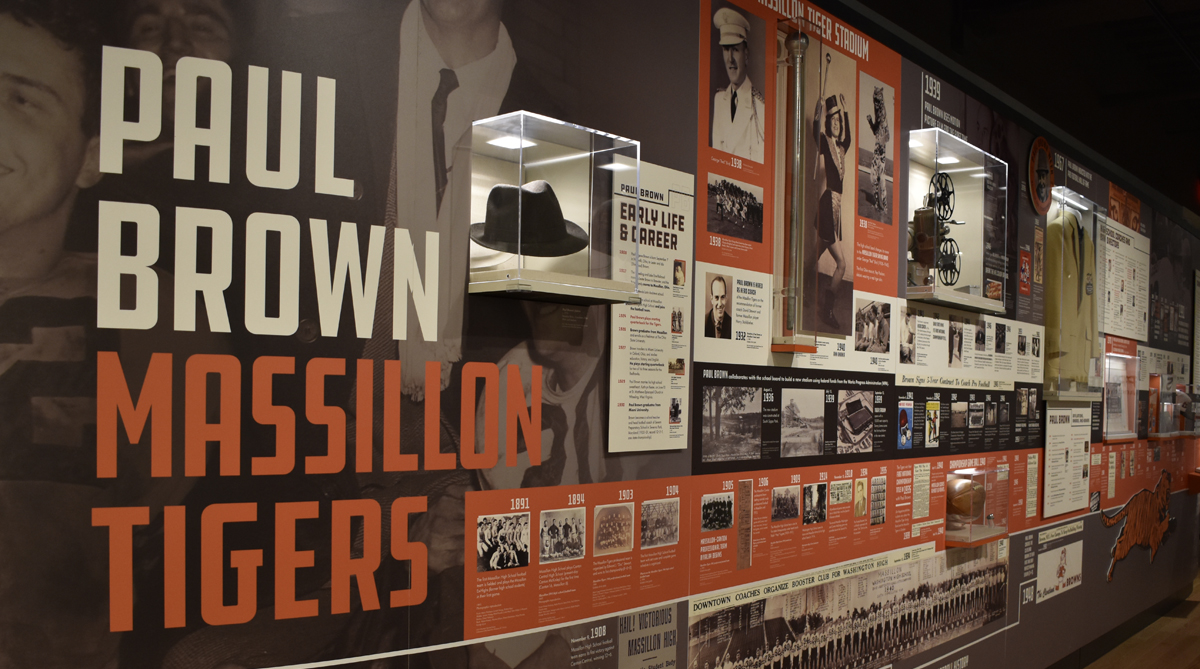 PAUL BROWN & TIGERS TIMELINE
Photographs, artifacts, and films illustrate key moments in football history of the Massillon Tiger Football team from 1891 to the present, and the career of Coach Paul Brown in this thirty-foot timeline.

FLU AND FOOTBALL
The effects of the 1918 Spanish influenza and the 2020 COVID-19 pandemics were strikingly similar on the city of Massillon and its football teams. Both times, Massillon shut down with exceptions for essential businesses, and football was impacted as a popular contact sport. Schedules were changed, and games were sometimes postponed or even canceled. This exhibition, "Flu and Football," examines the parallels of two pandemics more than 100 years apart.
On display February 5-July 10, 2022
TIGER LEGACY: THE STORY CONTINUES
On display now through Summer 2022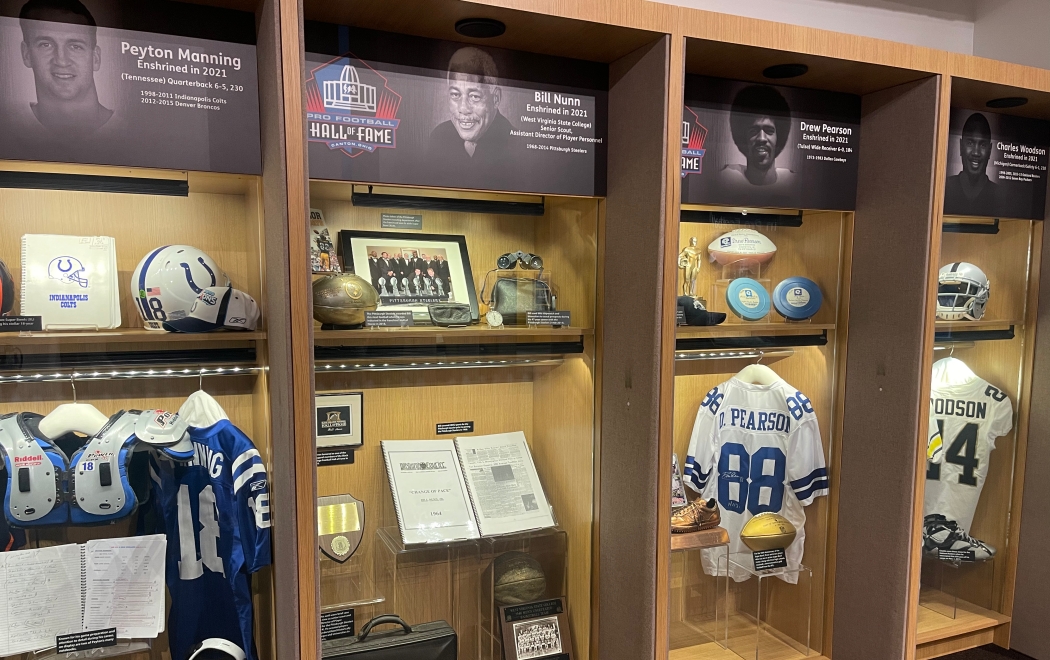 THE CLASS OF 2021 LOCKER EXHIBIT
Showcasing artifacts from all eight class members: ALAN FANECA, TOM FLORES, CALVIN JOHNSON, JOHN LYNCH, PEYTON MANNING, BILL NUNN, DREW PEARSON and CHARLES WOODSON. The exhibit is located in the Interactive Area of the Museum and highlights significant milestones from the life and career of each enshrinee. Among the featured artifacts are a variety of items from footballs, jerseys and warmups to awards, film cannisters and playbooks.