Image featured: Isabel Zaldivar, "A Place in the Mountains", acrylic on aluminum sheet, on view at the Massillon Museum part of the Stark County Artists Exhibition.
On display August 3-October 24, 2021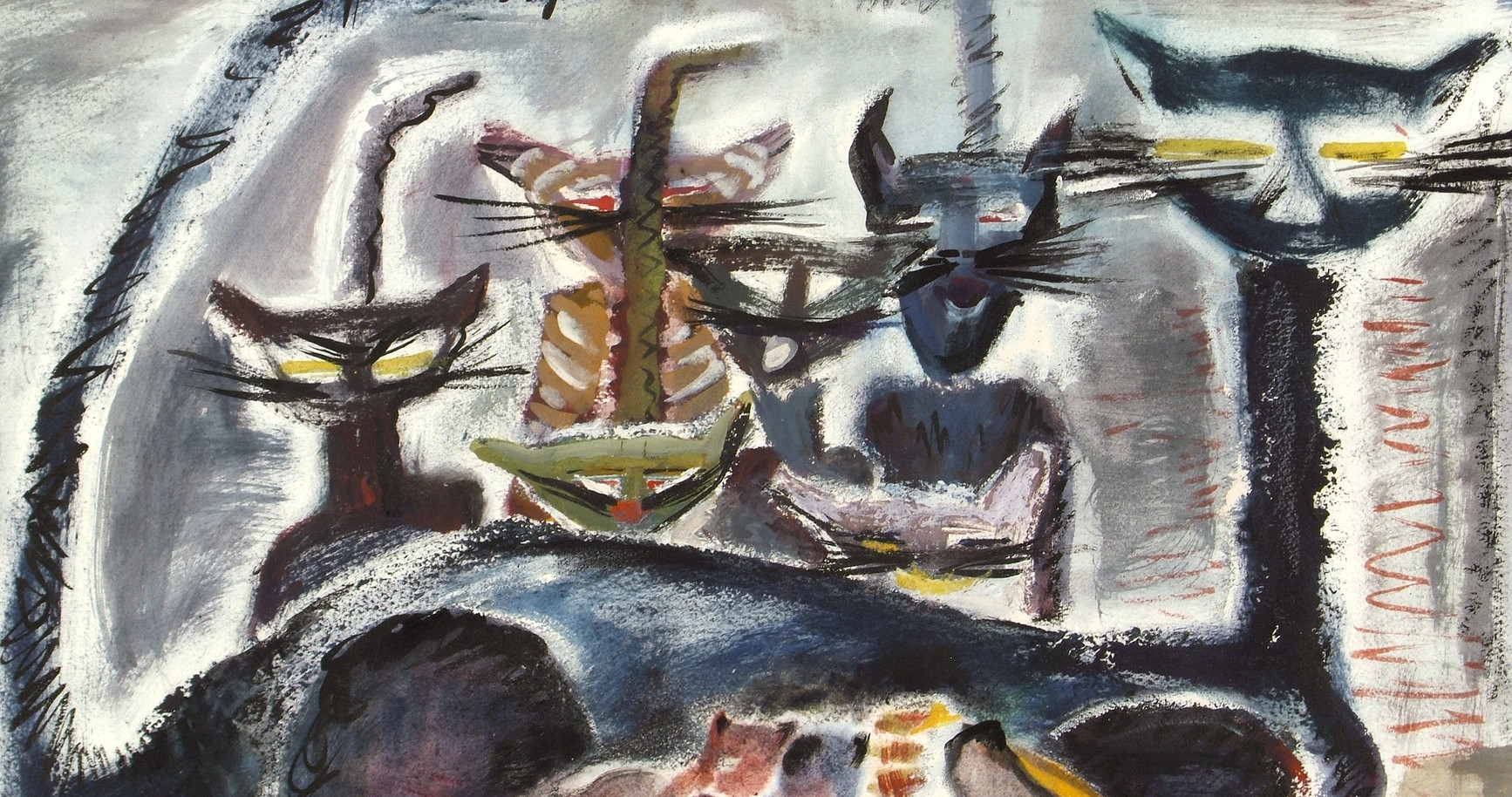 SOAR, ROAR, EXPLORE: ANIMAL LIFE FROM THE CMA COLLECTION
The artwork in this exhibit, pulled from the CMA's Permanent Collection, illustrates the role of animals in art across time. This exhibition challenges viewers to not only understand how and why certain animals were and are used in art, but also to decipher the myriad ways in which we have always seen our faults, our virtues, and our potential reflected in the natural world.

MOMENTS IN TIME: WATERCOLORS BY YUKI HALL
Yuki Hall is an award winning watercolor artist known for her loose style and impressionistic approached to working with the medium. After earning a degree in Mechanical Engineering, she had a career as an engineer in the automotive industry until 2006, when she decided to leave the workforce and start an artistic journey.

OHIO'S SMALL TOWNS: A JURIED EXHIBIT OF PAINTINGS BY MEMBERS OF THE OHIO PLEIN AIR SOCIETY
Ohio Small Towns is a juried exhibit of paintings by members of the Ohio Plein Air Society (OPAS), a collection of artists and art lovers who share a common interest in outdoor painting. The group credits their "admiration for the world around us" as inspiration to explore the diversity and uniqueness of Ohio's landscapes, cityscapes, lakes, rivers, and streams through art. As a non-profit organization, OPAS welcomes and supports artists, patrons, educators, and enthusiasts of all ages and skill levels, backgrounds and interests. Members represent nearly every county in Ohio and from each of the surrounding states.

CLOSE TO ME: CERAMICS BY ERIKA SANADA
Erika Sanada is a California based ceramic artist who creates beautifully haunting creatures in relationships that are often sweet and sometimes sinister. As a perpetually worried soul her works are a way for the artist to confront the darker side of her nature as well as an outlet for the sensitivities etched on her personality through the bitter experiences of youth. She creates fantastical ceramic creatures that are often adorable, but also have a curious shape.
Now on display at the Education Center through April 2, 2022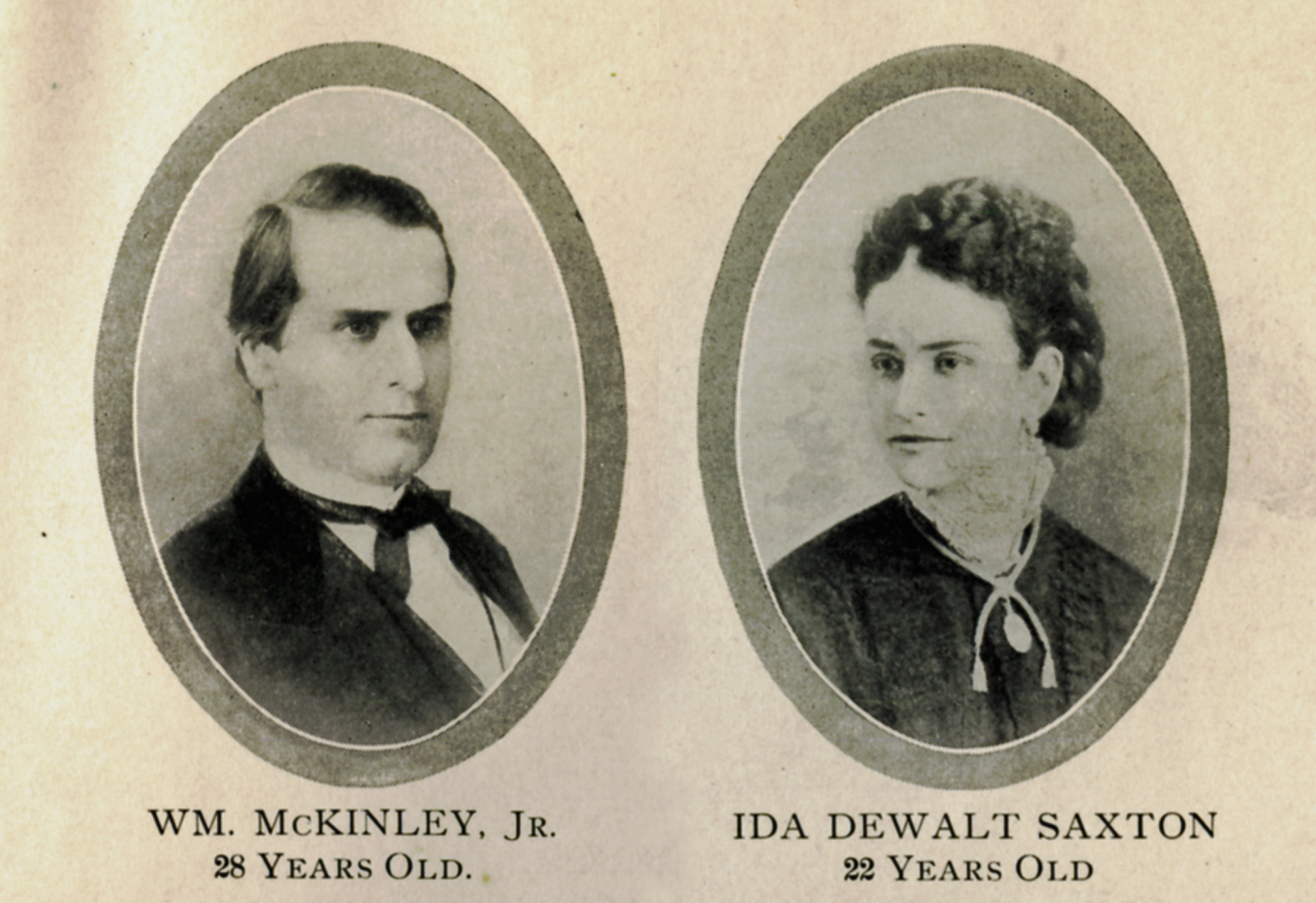 DEFINING HER ROLE: THE FIRST LADY'S FIRST 100 DAYS
The exhibit examines the initial steps a first lady takes to set the framework for her role in the new administration. Beginning with the Inauguration Day, replicas of famous inaugural gowns are on display as well as artifacts that offer insight into the causes first ladies championed, as well as items that help humanize them.

I THEE WED: THE MARRIAGE AND INFLUENCE OF IDA AND WILLIAM MCKINLEY
When Major William McKinley started courting the "Belle of Canton" Miss Ida Saxton in the summer of 1870, the town was excitedly expectant for a future wedding. Invitations were sent out in December announcing the date and time as January 25, 1871 at 7:30 p.m. at the First Presbyterian Church in Canton. An in-depth exhibit that pays tribute to the 150th wedding anniversary of their life-long dedication to one another.

SEW CHIC: STORY OF ANN LOWE
Rockefeller, Vanderbilt, Rothschild, Whitney, Post - Ann Lowe's client list read like a who's who of American aristocracy. With no more than an eighth grade education in a racially divided country, Lowe's talent and good taste propelled her success as a design powerhouse in the most illustrious social circles. The exhibition is a celebration of the life and work of Ann Lowe with a special focus on the gowns she created for the Evyan Perfume Company.
On display October 16, 2021-January 16, 2022
STARK COUNTY ARTISTS EXHIBITION
The Massillon Museum has held this annual juried show for more than 30 years. In order to apply, you must be a present or former Stark County, Ohio resident, or currently work in Stark County, Ohio. (Image featured above.)
On display October 16-December 1, 2021
AMY SWARTELE: SUPERNORMAL
The paintings in Supernormal playfully meld the familiar and the strange: they dismantle the false dichotomy of "normal vs. "weird".
Now on display through January 9, 2022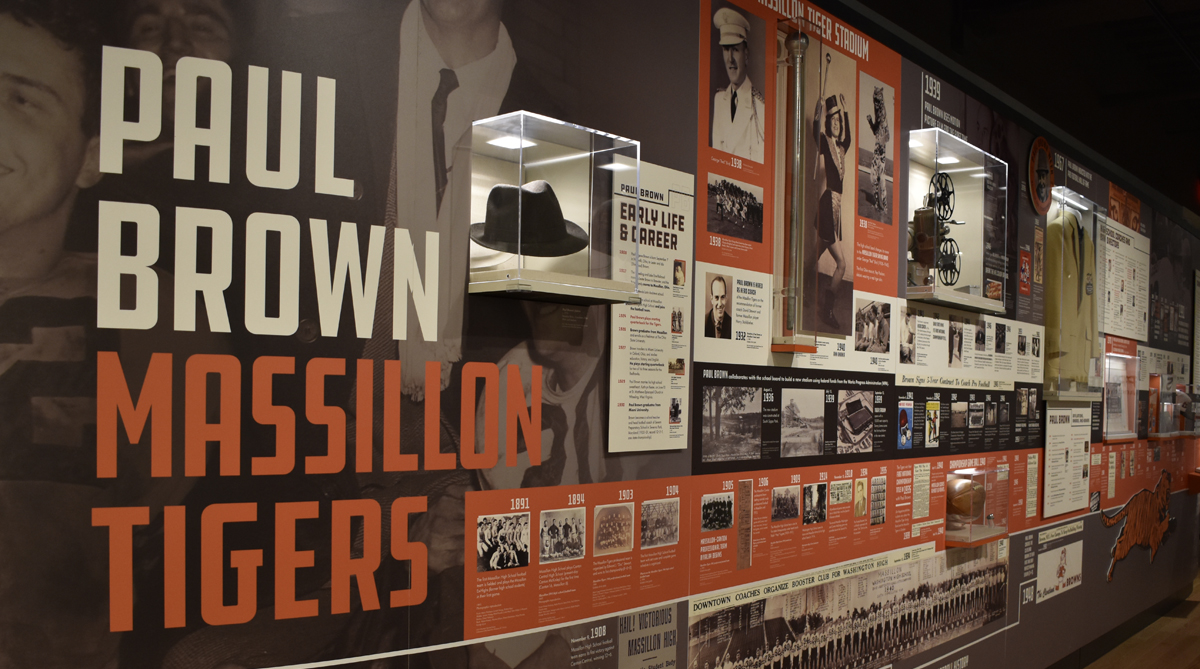 PAUL BROWN & TIGERS TIMELINE
Photographs, artifacts, and films illustrate key moments in football history of the Massillon Tiger Football team from 1891 to the present, and the career of Coach Paul Brown in this thirty-foot timeline.

FLU AND FOOTBALL
The effects of the 1918 Spanish influenza and the 2020 COVID-19 pandemics were strikingly similar on the city of Massillon and its football teams. Both times, Massillon shut down with exceptions for essential businesses, and football was impacted as a popular contact sport. Schedules were changed, and games were sometimes postponed or even canceled. This exhibition, "Flu and Football," examines the parallels of two pandemics more than 100 years apart.
On display July 16-January 16, 2022
"WHY DO WE COLLECT?"
"Why Do We Collect?" features 30 carefully selected ordinary objects with stories from donors that make them special. The exhibition also explores how and why museums build their permanent collections, how we assign meaning to material objects, and the psychology behind personal collecting. To illustrate the process of conservation in museums, two of First Lady Ida McKinley's gowns will be on display, accompanied by detailed information about the conservation treatment they have received to stabilize them. The exhibition also explores how museums collect history in the making, illustrated by a selection of COVID-19 related items collected by the staff in their daily lives.
The William McKinley Presidential Library & Museum is pleased to announce the Hoover-Price Planetarium is open for daily shows through September 4, 2021. Planetarium shows are included with paid admission to the Museum. Seating is limited and all shows are provided on a first-come, first-served basis.
On display now through Summer 2022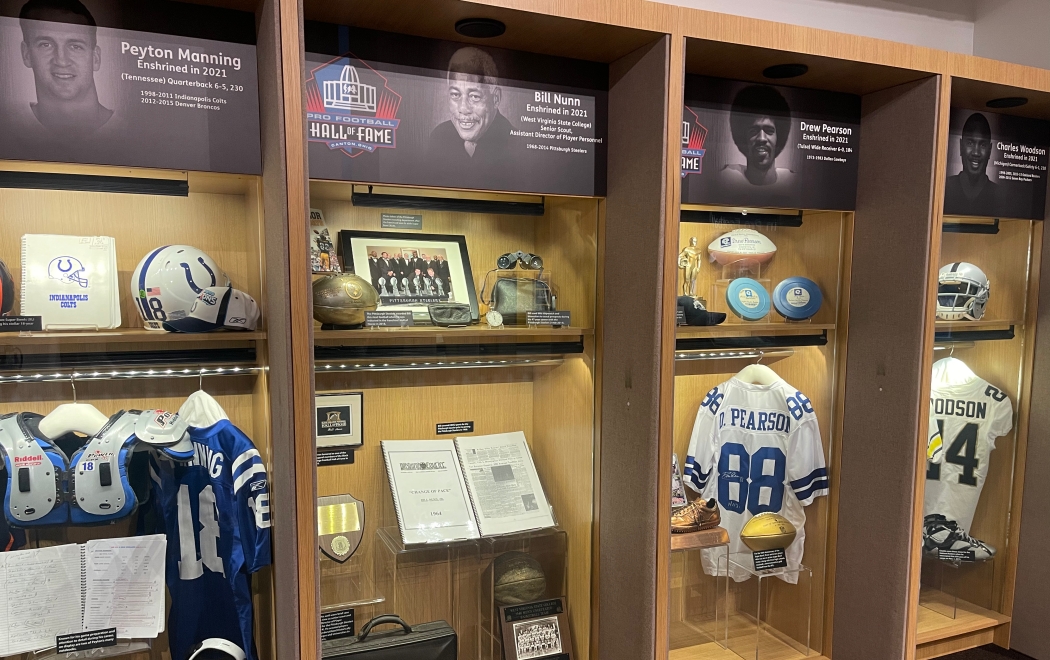 THE CLASS OF 2021 LOCKER EXHIBIT
Showcasing artifacts from all eight class members: ALAN FANECA, TOM FLORES, CALVIN JOHNSON, JOHN LYNCH, PEYTON MANNING, BILL NUNN, DREW PEARSON and CHARLES WOODSON. The exhibit is located in the Interactive Area of the Museum and highlights significant milestones from the life and career of each enshrinee. Among the featured artifacts are a variety of items from footballs, jerseys and warmups to awards, film cannisters and playbooks.