History Celebration
In honor of the Bicentennial a flag was flown over the US Capitol. At the start of the event a proclamation will be read and this special flag will rise over the event. Nearby festival goers can write letters to themselves and future generations to be stored in a time capsule and opened in 2051.

Old Fashioned Day is an official Ohio Open Doors event. Brought to you by Ohio History Connection, Ohio Open Doors is a statewide effort where building and landmark sponsors open their doors to the public for special tours and programs. Visitors can explore Hartville history by visiting landmarks including the 107 year old Hartville Elevator and 1880's train station and train cars at Maple Street Gallery. Visit the train car from noon-12:30pm for special appearances and speeches by Presidents Teddy Roosevelt and William McKinley. Old-timey activities and demonstrations such as wagon rides, yarn spinning, corn shelling, and rope making will fill the streets along with vendors selling upcycled, vintage, and handmade wares.

Bring the Kids
Kid activities will be everywhere you look highlighted by a visit from PNC Bank's Mobile Learning Adventure. This nationally touring exhibit features activities and crafts for parents and kids to explore together. Kids will love taking home a souvenir photo from the "what I want to be when I grow up" station where they dress up and have a photo taken in front of a green screen.

Come Hungry
Hartville Lions Club will hold their annual chicken BBQ. Grilling on-site makes the fest smell wonderful! You can enter to win 2 dinner tickets by entering HERE before Sept 4th. Local bakers will compete in the 3rd Annual Hartville's Best Pie Contest. Lucky festival goers can try a slice of the entries by giving a donation to the Lake Township FISH food pantry. Downtown eateries will also be serving lunch and sweet treats. The lunch area will also be home to Politicians Row. Meet and greet with current and campaigning politicians and learn about the jobs that keep our communities running.

Old-Timey Sounds
The Twang Cats play an eclectic mix of several popular musical genres. Rockabilly, country, bluegrass, folk, and rock all meld together to give them their distinctive and unique sound. Catch their concert in the square from 10:30-3pm.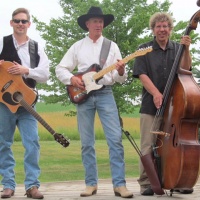 This final Second Saturday street fest of the year is organized by the Downtown Hartville Merchants with support from The Village of Hartville, Lake Township Chamber of Commerce, Lake Township Historical Society, and The Knowles Press/The Hartville News. Sponsors include Arts in Stark, Visit Canton, Schoner Chevrolet, Lake Township Bicentennial Committee, MJ Miller & Co CPAs, and Frontier Restaurant.

For more information visit www.discoverhartville.com/secondsaturday
Old Fashioned Day & Bicentennial Celebration
Saturday, September 10th 10am-3pm
Free admission & parking
Historic Downtown Hartville 101 S. Prospect Ave