On September 1, a main component of the $500 million Hall of Fame Village campus development will break ground. Construction is set to begin on the spectacular, new four-star hotel in Pro Football Hall of Fame Village later this summer. The 243-room upscale hotel property will open in May 2018.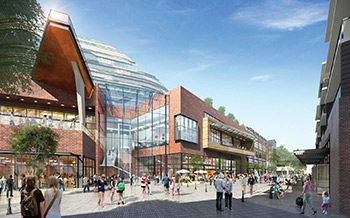 The football-themed hotel is the creative work of HKS Architects and will include a grand lobby to serve as the "living room for the Hall of Fame Village" with expansive 40-foot ceilings, a large fireplace, oversized furniture and technology incorporated to accommodate huge projection screens. Crestline Hotel & Resorts, LLC, associated with Hall of Fame Gold Jacket Bruce Smith, will manage the luxury hotel.
The hotel features a two story "Commissioner Suite" at the peak of the property. The restaurant on property will have a large, operable wall that opens up for patrons to view Hall of Fame Village's "Main Street", the home to retail, restaurants office and residential space. The design also includes a VIP perch and meeting space overlooking the lobby, a ballroom with capacity for a 600-person seated dinner and breakout meeting rooms.