Hartville Kitchen Restaurant & Bakery
Overview
The Hartville Kitchen Restaurant provides the best in homestyle cooking using only the finest ingredients since 1966. Real mashed potatoes, fresh chicken and beef, delicious vegetables, homemade dinner rolls and a selection of twenty-one pies for dessert make them a very popular destination in the area! Step through the distinctive doorway and experience the charm of their unique restaurant, bakery, Hartville Cucina Oil & Vinegar Tasting Room, toy shop, and 20,000-square-foot gift shop. From the cordial greeting of their hostesses to their staff of friendly waitresses, everyone will make your dining experience both enjoyable and memorable. Enjoy large portions of delicious food served in their spacious 440-seat dining room!Are you looking for group dining? Our Hartville Kitchen dining room and four West Wing breakout rooms are perfect for small gatherings, meetings, or parties. We also feature larger venues that are ideal for large groups up to 500. Our spacious venues include adjustable stages, dance floor, a Bose sound system and video projection system. We can create a combination of rooms to fit your needs. Whether you need a single room for a smaller gathering or one large room for a wedding, we can configure rooms to meet almost any need. Concerts are hosted in our banquet venues over 15 times per year, check out our events schedule and get your tickets for a live show!
Details
Casual Dining
Sweets & Desserts
Amenities
Wheelchair Accessible
Open for Lunch
Meeting and Banquet Facilities
Open for Dinner
Total Square Footage : 6,216

Max Banquet Capacity : 360 with rounds of 10 | 520 with longs of 8 West Wing 120 with rounds of 8, 168 with longs of 8

Meeting Spaces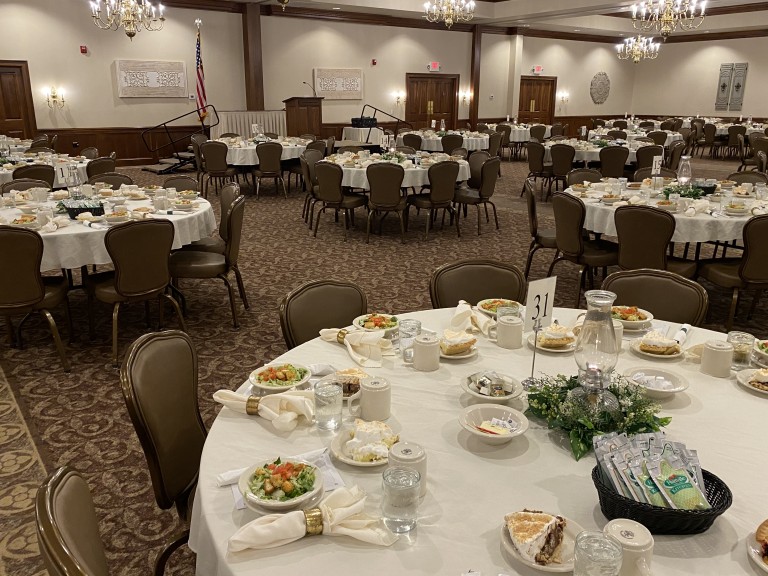 Banquet Room
Our well-appointed banquet room seats groups of 500 and lends a formal atmosphere with chandeliers and mood lighting as well as audio-visual equipment for weddings, business meetings, and school events. For smaller groups, this room can be divided into four separate rooms, each room with its own audio-visual amenities. Each of the four rooms is 1,554 sq. ft. and can hold 80 people. All rooms and restrooms are wheelchair accessible.
Hickory Room
The Hickory Room, also located in the West Wing, seats 14 - 16 guests and makes a great venue for small family gatherings or board meetings. All rooms and restrooms are wheelchair accessible.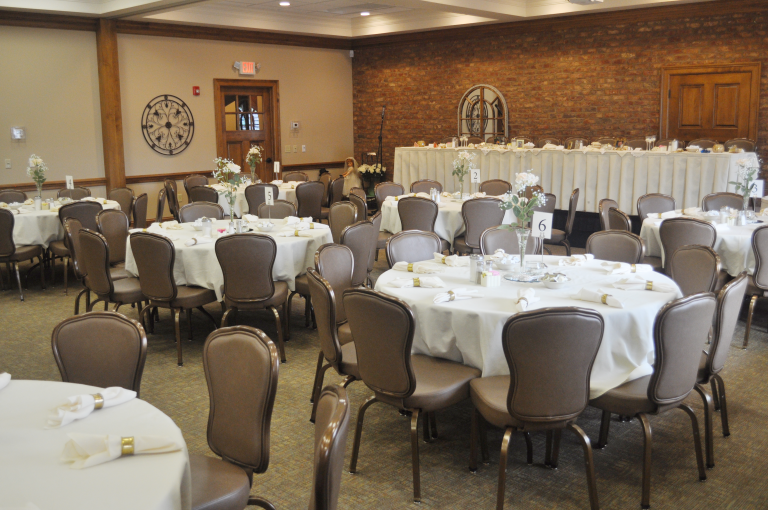 West Wing
Our West Wing seats 150 guests and has a more rustic feel to the decor. This area can also be divided into three separate rooms for smaller, more intimate parties. Each space is 314 sq. ft. and can accommodate 48 people. All rooms and restrooms are wheelchair accessible.