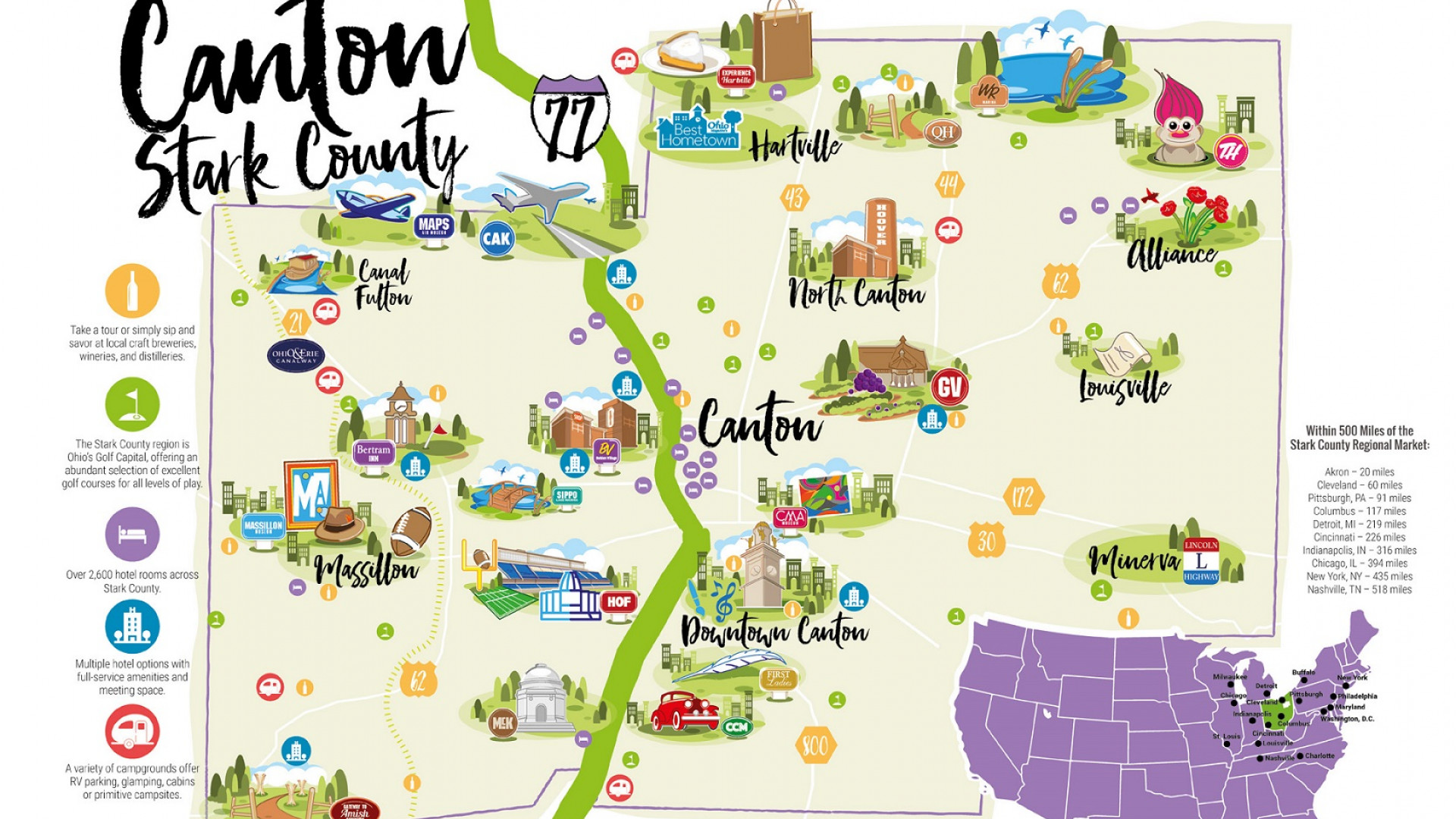 This summer, celebrate freedom and explore our nation's history. Rediscover true tales from American history while visiting historic sites, national parks, museums, and other points of inspiration.
Inspired by History
These drive-it-yourself road trip itineraries rediscover true tales from American history while visiting historic sites, national parks, museums, and other inspirational points of interest:
---
​BREAKING THE COLOR BARRIER (1941-1946)
While many recognize Jackie Robinson for breaking the color barrier in sports in April 1947, a Canton, Ohio native Marion Motley, and three other men breached pro football's color barrier in 1946.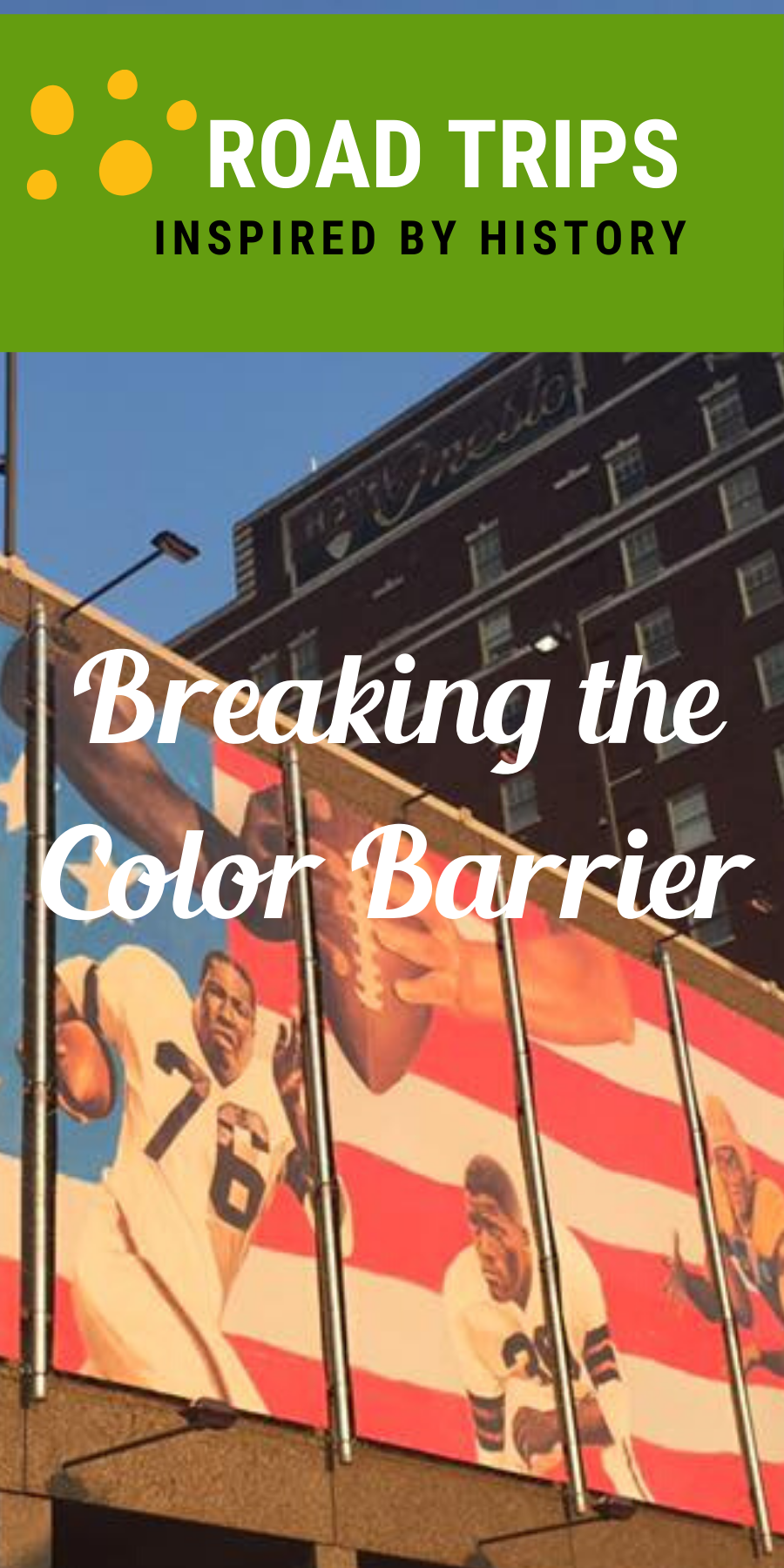 The Eleven - Reintegration of Pro Football
​237 Cleveland Ave. NW, Canton, Ohio 44702
In 1946, head coach Paul Brown signed Bill Willis and Marion Motley to the Cleveland Browns, and the Los Angeles Rams signed Kenny Washington and Woody Strode. Learn about Paul Brown's many contributions to the advancement of the game at the Paul Brown Museum in Massillon, Ohio.
The "Forgotten Four" are commemorated among the greatest moments in pro football history in a series of public art installations throughout downtown Canton called The Eleven. The remaining completed pieces of The Eleven are all located within a walkable distance throughout downtown Canton. You'll also find several local restaurants and an Outdoor Refreshment Area in downtown Canton, allowing you to grab a beverage to-go as you walk through the city.
Today in Canton you can find a small street, Marion Motley Ave NE, named after the Canton McKinley High School Football alumnus. A group of local residents have begun planning with the Canton Park Commission to place a Marion Motley statue at a memorial site not far from McKinley High School and the iconic front doors of the Pro Football Hall of Fame, on a triangle of grass at Stadium Park Drive NW and Harrison Avenue NW.
Pro Football Hall of Fame
2121 George Halas Dr. NW, Canton, Ohio 44708 | 330.456.8207 | Open Daily 9 a.m. - 8 p.m. (summer hours)
Discover more about pro football history and inspiring stories from the gridiron on exhibit at the Pro Football Hall of Fame museum.
8410 Lincoln St. SE, East Canton, 44730 | 330.488.0404 | Open Daily
William Powell broke another color barrier in sports, opening Clearview Golf Club in 1946 in East Canton. In 1946, Clearview became the first and remains today, the only golf course designed, built, owned, and operated by an African American. William Powell, the grandson to slaves and a passionate golfer since age 9, returned from England after serving in the US Army during WWII to America where golf courses, and much else, remained segregated. After being denied the right to play on public courses, and denied traditional bank financing or a GI loan, Powell began an unwavering pursuit to build his own course. With financial help from two black physicians and a loan from one of his brothers, "America's Course" was built to fulfill Powell's vision for a course where people of all races were welcome to play.
The course is on the National Registry of National Historic Sites and continues to operate today under the direction of William Powell's daughter Renee Powell. Renee has continued on to establish her own legacy. Among her many accomplishments, in 1967 Renee became the second African-American woman to compete on the LPGA Tour, and in 2015, she became one of two American women initially given honorary membership into the Royal and Ancient Golf Club of St. Andrews, Scotland.
​2260 International Parkway, North Canton, Ohio 44720 | 330.896.6332
Another group of African Americans that broke the color barrier during the era of WWII is the Tuskegee Airmen. Prior to 1940 African Americans were barred from flying for the U.S. military, denied military leadership roles and skilled training because many believed they lacked qualifications for combat duty. Responding to pressure from civil rights organizations and black press, an all African-American pursuit squadron was formed. Based in Tuskegee, Alabama, in 1941, they became known as the Tuskegee Airmen.
In North Canton, learn more about the trials and triumphs of the Tuskegee Airmen in the MAPS Air Museum Gallery of Heroes. The Military Aviation Preservation Society (MAPS) serves as the center of aviation history for Northeast Ohio and celebrates the history, "not made by airplanes, but by the men and women who designed, built, and flew them."
---
UNDERGROUND RAILROAD (1800s-1863)
There are two designated sites on the NPS National Underground Railroad Network to Freedom in Stark County, both historic homes. The Haines House & Underground Railroad Museum is located in Alliance, Ohio on Stark County's east side and the Spring Hill Historic Home is located on the west side of the county in Massillon, Ohio.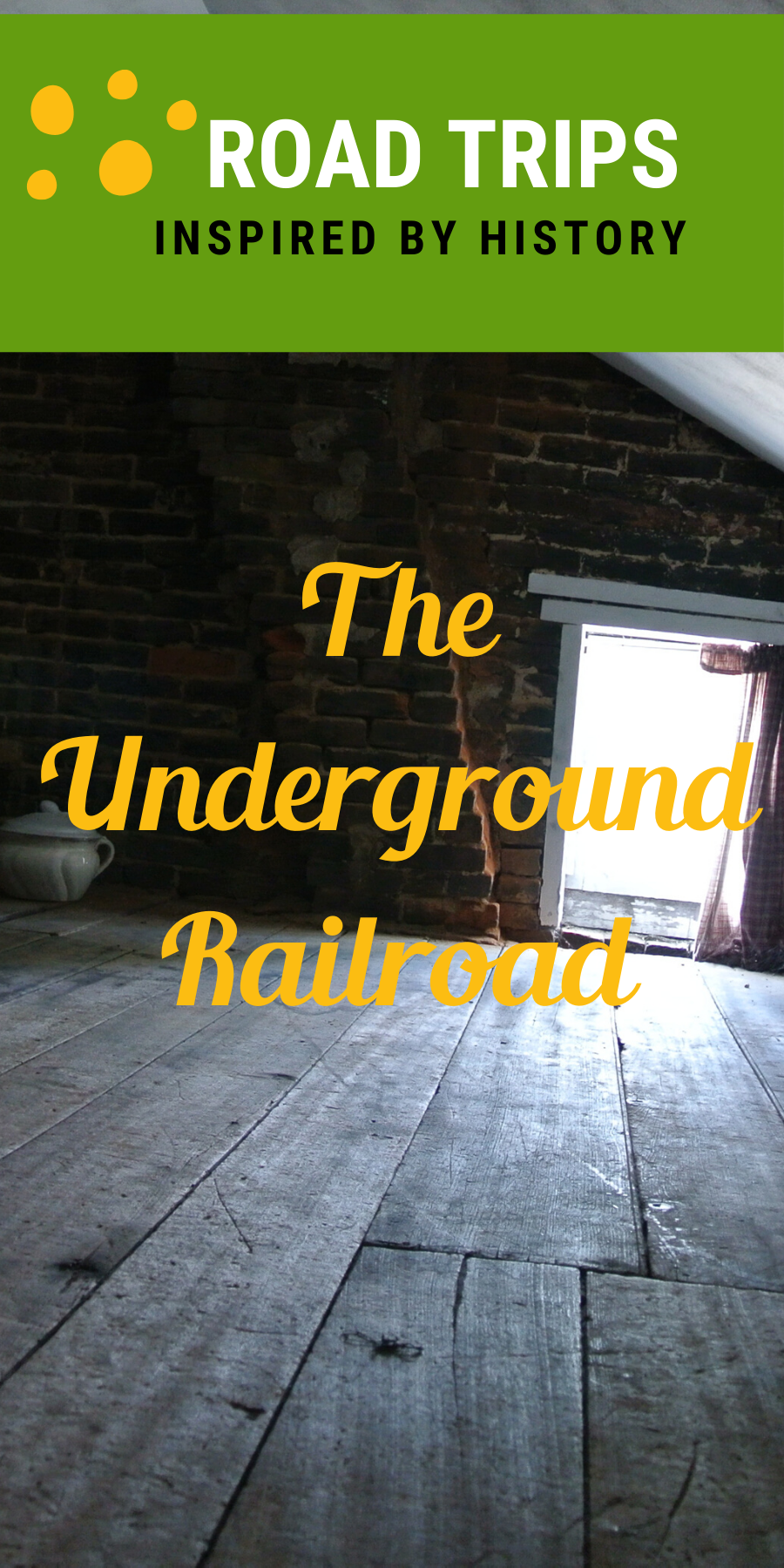 Haines House Underground Railroad Museum
186 West Market St., Alliance, Ohio 44601
The Haines House is a historic home now located in the middle of an Alliance neighborhood. It was once surrounded by a 126-acre family farm that served as a site for meetings of the Western Anti-Slavery Society and post-war station on the Underground Railroad. Tours of the home are only available by appointment.
Spring Hill Historic Home
1401 Spring Hill Ln. NE, Massillon, Ohio 44646
Spring Hill Historic Home in Massillon, Ohio is open for walk-in tours Saturdays, Sundays and Mondays from 1 to 4 p.m. The home was once home to Quakers Thomas and Charity Rotch whose aid to fugitive slaves is chronicled firsthand within a letter sent to Thomas Rotch from fugitive slave George Duncan who came to know freedom by way of Spring Hill. Duncan writes in the letter that is now part of the Rotch-Wales collection at the Massillon Public Library, "I arrived safe in Bainbridge Geauga County, where I put up … and I am treated extremely well by the people."
Both historic homes are drive-by stops at this time. Public tours are postponed at this time due to COVID-19.
121 Lincoln Way E., Massillon, Ohio 44646 | 330.833.4061 | Tuesday-Saturday, 9:30 a.m.-5 p.m. and Sunday, 2-5 p.m.
Learn more about Massillon's role in anti-slavery and the Underground Railroad in the Massillon Museum archives. Massmu is a cultural hub for the community and accredited local art and history museum. The museum is open Tuesday-Sunday and admission is free.
From Massillon head north 9 miles into Canal Fulton where you can see the Ohio & Erie Canal and walk along the Towpath Trail that extends over 80 miles north to Cleveland, Ohio.
Ohio & Erie Canal, St. Helena III
125 Tuscarawas St. NW, Canal Fulton, Ohio 44614 | 330.854.6835 | Daily, 10 a.m.- 4 p.m. (May-September)
Runaway slaves it is told would board canal boats and continue fleeing north toward their next safe-haven. Seasonally, ride the replica canal boat St. Helena III, pulled by two draft horses for a one hour ride down the Ohio & Erie Canal with a historian on board to provide information on the history of the canal, the boat and the area. Before your board, make time to stop in the Canalway Center to learn more. Due to seating restrictions for the health and safety of passengers, reservations are preferred. The boat operates daily from 10 a.m. to 4 p.m., May-September.
Cuyahoga Valley National Park
The Ohio & Erie Canal is also a centerpiece of the Cuyahoga Valley National Park. The 87-mile Towpath Trail running through the heart of the Canalway traverses through the only national park in Ohio. The crushed limestone towpath starts in Tuscarawas County, continues through Stark County and Summit County into Cuyahoga County, and ends at Lake Erie in Cleveland.
---
McKINLEY PRESIDENTIAL TRAIL (1869-1901)
The 25th President of the United States, William McKinley, started out as the Stark County prosecutor elected in 1869. He married Canton native Ida Saxton in 1871 and went on to serve in the U.S. House of Representatives and two 2-year terms as governor of Ohio. In 1896 he earned the nomination of the Republican Party for the presidency of the United States, winning the presidency by employing the now well-known "Front Porch Campaign" strategy.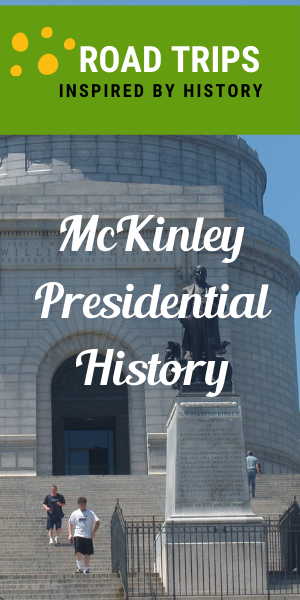 First Ladies National Historic Site
205 Market Ave. S, Canton, Ohio 44702 | 330.452.0876 | Wednesday-Saturday, 9 a.m. - 4 p.m.
Sit on the front porch at the Saxton House, an architectural restoration of the family home of William and Ida in Canton, Ohio, and part of the First Ladies National Historic Site. The home was meticulously restored with great care to authenticate design elements. Guided tours are available of the three-story Victorian home provided by a combination of knowledgeable docents and NPS park rangers, reservations are recommended.
The Education Center at the First Ladies National Historic Site features a small museum of rotating exhibits. It's open Wednesday-Saturday 9 a.m. to 4 p.m. and admission is free. The library is a national archive dedicated to educating people about the contributions of First Ladies and other notable women in history. Notable for the time, Ida was a working woman when she met and married William McKinley. Not only was she employed as a cashier at her father's bank, she also continued on to become the bank manager. Ida was also known to communicate frequently with suffrage leader Susan B. Anthony, and both President McKinley and Ida Saxton were vocal about their support for the women's suffrage movement.
Join a park ranger at 11 a.m. in the summer months (Wednesday- Saturday) to learn a little more about the experience of being First Lady.
See several walkable historic points of interest while in downtown Canton.
101 West Tuscarawas St., Canton, Ohio 44702
Located inside the over 200 years old Stark County Courthouse is the "McKinley Courtroom" where McKinley's portrait, as the former prosecuting attorney in Stark County, still hangs behind the judges' bench. Four 11-foot tall trumpeting angels crown the buildings 80-feet tall clocktower, an iconic landmark in Stark County.
120 Cleveland Ave. SW, Canton, Ohio 44702
Across the street from the Courthouse, visit the Church of the Savior where the pew Ida and McKinley sat in for worship has needlepoint cushions depicting his life. The McKinley Windows inside the church were a gift of the president's widow. Biblical characters representing four phases of McKinley's life are depicted.
Christ Presbyterian Church
530 Tuscarawas St. W, Canton, Ohio 44702
One block west along Tuscarawas St. the Christ Presbyterian Church is where William and Ida were married on January 25, 1871.
McKinley's second term as President was cut short in September 1901. Tragically, the President was assassinated, shot twice by an anarchist while standing in a receiving line at the Buffalo Pan-American exhibition. President McKinley died eight days later.
McKinley National Memorial
800 McKinley Monument Dr. NW, Canton, Ohio 44708
President McKinley, wife Ida Saxton, and two young daughters are laid to rest together inside the McKinley National Memorial. 108 steps lead up the monument to bronze entrance doors, the largest ever cast at that time. Inside, side by side are two polished, dark-green, granite sarcophagi, resting atop a ten-foot-square of polished dark maroon granite. Inscribed in the stone walls surrounding the family are words from McKinley's last speech:
"Let us ever remember that our interest is in concord not conflict and that our real eminence rests in the victories of peace not those of war."
800 McKinley Monument Dr. NW, Canton, Ohio 44708 | 330.455.7043 | Tuesday-Saturday, 9 a.m. - 12 noon and 1 p.m. - 4 p.m.
The William McKinley Presidential Library and Museum, a private nonprofit organization under the umbrella of the Stark County Historical Society, administers the memorial and its grounds. The museum, dedicated to our 25th President, also chronicles the "Stark County Story", and serves as an interactive, hands-on science and history education center, perfect for kids and families.
---
MOTHER ANGELICA TOUR (1923-2016)
Mother Angelica is a cloistered Franciscan nun who launched what has become the largest religious media network in the world, the Eternal Word Television Network. Mother Angelica and her spiritual healer Rhoda Wise are two notable women of inspiration from Stark County. Both currently progressing through the steps of canonization, the process to be declared saints in the Catholic Church.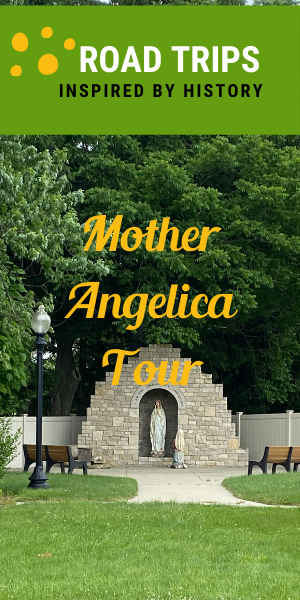 4365 Fulton Dr. NW, Canton, Ohio 44718 | 330.492.7018 | Monday-Friday, 10 a.m. - 4 p.m.
Follow a self-guided tour throughout Stark County to recount Mother Angelica's life journey. The tour is presented by and begins at the St. Raphael Center with a gift shop, Lourdes Grotto, chapel, and the newly opened Mother Angelica museum.
Rhoda Wise "Miracle House" and Grotto
2337 25th St. NE, Canton, Ohio 44705 | 330.453.0322 | Monday-Friday, 10 a.m. - 5 p.m. and Saturday, 11 a.m. - 3 p.m., Reservations Recommended
Visit the Rhoda Wise "Miracle House" and grotto where, in 1939, Rhoda Wise found herself miraculously cured after a series of visions of her Lord and Saint Therese "The Little Flower". In April 1940, Wise recounts a vision of her Lord declared to her, "Cures more wonderful than your own will take place on this spot."
In 1943, when she was 20 years old, Rita A. Rizzo was brought to Rhoda Wise suffering a debilitating stomach ailment. Rhoda gave her a Novena prayer to St Therese to recite, and on the last day after Rizzo experienced sharp stomach pains through the night, she awoke to find herself cured. The experience changed her life.
Rita Rizzo entered a convent in Cleveland, Ohio in 1944 and became Sister Mary Angelica of the Annunciation. She later returns to Sancta Clara Monastery in Canton, Ohio. Attend Mass at the breathtaking St. Peter Church or the Sancta Clara Monastery.
726 Cleveland Ave. NW, Canton, Ohio 44702
St. Peter Church was the home parish of Rhoda Wise whose pastor at the time, Msgr. Habig, took young Mother Angelica under his wing after her healing and helped to find a religious order to accept her.
4200 Market Ave. N, Canton, Ohio 44714
The Santa Clara Monastery is where Sr. Angelica professed and spent 17 years of vowed life, and in 1956 committed to her intent to open a monastery in the South for a cloistered community of black nuns. Though her intent in the South was to alleviate racial tensions, with merely $200 she began what has grown to become the largest religious media network in the world, Eternal Word Television Network (EWTN).