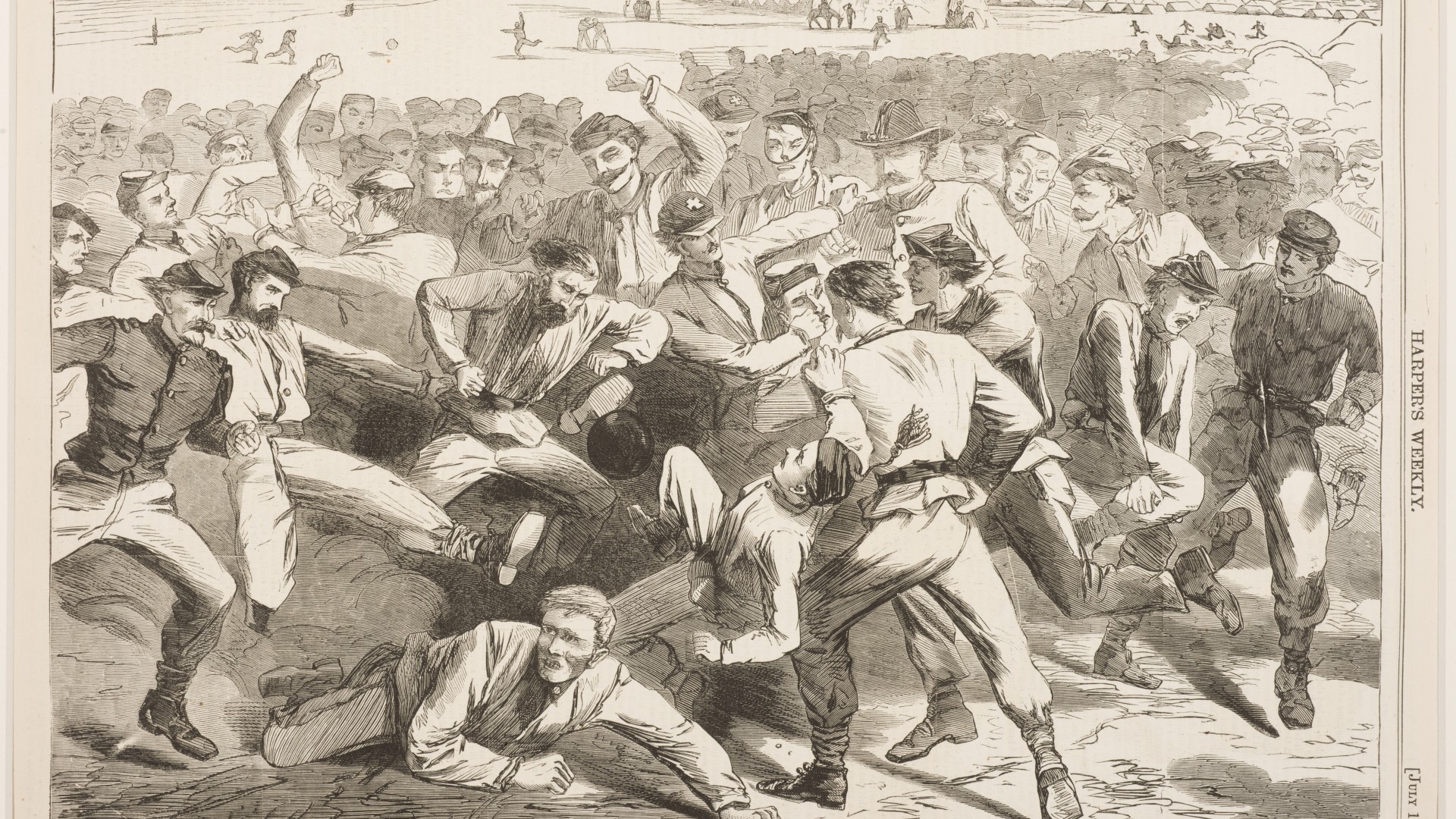 August 1 - October 31, 2017 Discover and explore football and art in a community steeped in both. "Scrimmage" explores themes such as race, teamwork, and competition for viewers to examine today.
SCRIMMAGE: Football in American Art
Scrimmage: Football in American Art from the Civil War to the Present is the first comprehensive assembly of work by prominent American artists focusing on football, featuring 60 works from American artists including: Winslow Homer, Andy Warhol and Ernie Barnes. This special exhibition is organized by the Gregory Allicar Museum of Art (formerly the University Art Museum) at Colorado State University, and the Jorden Schnitzer Museum of Art at the University of Oregon, with works assembled from the Smithsonian American Art Museum, the National Portrait Gallery, the Figge Art Museum, Denver Art Museum, The Rockwell Museum, The Museum of Fine Arts - Houston, Yale University, Canton Museum of Art, and numerous other public and private collections.
ALONG WITH THE EXHIBIT, SEVERAL COLLABORATIVE EVENTS AR PLANNED TO BRING SCRIMMAGE TO LIFE OVER THREE MONTHS THROUGHOUT THE CANTON COMMUNITY:
Massillon Museum (August – October) continues an exhibit series with its Paul Brown collection, celebrating Brown as the first coach of the Cleveland Browns and a leader in racial integration of football. Exhibit Opening, August 19. FREE.
Stark District Library (August– October) will be working with the Canton Museum of Art to present programs based on the book "Rudy: My Story," which was chosen for the Library's One Book, One Community feature.
Arts In Stark 'The Eleven' Art Project (August 4) will unveil the newest mural, Super Bowl III, by artist Dirk Rozich with a free public reception at the Cultural Center for the Arts beginning at 4:30PM. Dedication by David Baker, President, Pro Football Hall of Fame, Robb Hankins, CEO of ArtsinStark, and Special Guests Celebrating one of the "Eleven Greatest Moments in Football."
Canton Museum of Art (August 10, 6-8PM) will host a special public reception for the opening of Scrimmage. Canton Ballet will be performing a few slections of their Touchdowns & Tutus performance and there will also be a Gallery Talk "Football in the Art Museum" presented by Max Barton, Executive Director, Canton Museum of Art, and Joe Horrigan, Executive Director Pro Football Hall of Fame.
Canton Symphony Orchestra (September 3) will present a Summer in the Park "Tailgating" concert reliving football in music from film and television in advance of NFL season kickoff. Enjoy the evening beginning at 7:30PM at Petros Lake Park (3519 Perry Drive SW, Canton).
Pro Football Hall of Fame Scrimmage Speaker Series (September 5 & 27, 6PM) Pro Football Hall of Fame President David Baker, Executive Director Joe Horrigan and Gold Jacket guests will showcase how football is celebrating excellence in our communities and beyond. This speaker series is FREE and will take place at the Pro Football Hall of Fame.
Canton Palace Theatre (September 8– 9) will present Football Film Days featuring time-honored football favorites from the movies. September 8th: "Rudy" and September 9th: "Remember the Titans." Admission is just $5 and both movies begin at 7:30PM.
AULTCARE Family Field Day (September 9, 11AM-3PM ) will be a free event to engage in outdoor arts and sports activities, and explore the Scrimmage exhibit through tours led by local high school football coaches at the Canton Museum of Art.
"Race and Football: Evolution of the Game" Sports Art Talk (September 13 & 20) will reveal the history of African American athletes both on the field and in sports imagery. Presented by Dr. Leslie Heaphy, Associate Professor of History, Kent State University at Stark. September 13th program at Canton Museum of Art and September 20th program at Kent State University at Stark.
"Gladiators: The Concussion Crisis and Football's Future Through the Visual Arts" Sports Art Talk (October 4) will discuss the history of American football art and popular illustration illuminates issues facing the National Football League and other football organizations today, as they work to make the game safer in order to minimize the long-term consequences from head trauma. Presented by Dr. Michael Oriard, Distinguished Professor of American Literature at Oregon State University, author of four cultural studies of football, including "Brand NFL", and played four seasons with the Kansas City Chiefs.